The Best of Uganda in a Fly-In – Drive Combination Luxury Safari
Uganda's Best in a Luxury 8-Day Fly-In Gorilla-Chimpanzee-Wildlife Safari in Uganda
---
This Luxury 8-Day Fly-In Gorilla-Chimpanzee-Wildlife Safari in Uganda combines convenience with experience. There are no long drive-times, just more time in the parks. Stay at exclusive luxury lodges such as
Ishasha Wilderness Tented Camp, Kyambura Gorge Lodge, and Crater Lake Safari Lodge.
Fly to Bwindi Impenetrable Forest to begin your LuxuryGorilla-Chimpanzee-Wildlife Safari and fly back to Entebbe after Kibale Forest.  Minimal Drive Times, maximizing your Primate and Wildlife experience in Uganda
The most prolonged Drive Time between Parks and Lodges on this Safari is 2 1/2 hours.
Arrival and Departure Lodging before the Safari and at the end of the Safari can be added on for your convenience. This includes airport pickup and dropoff.
Extend the Safari by adding time in Semiliki National Park and or the Foothills of the Rwenzori Mountains of the Moon.
---
Highlights of your Luxury 8-Day Fly-In Gorilla-Chimpanzee-Wildlife Safari in Uganda
Two Flights with Aerolink Safari Airline from and to Entebbe
Stay at 4 Luxury Lodges
Toyota Landcruiser with Pop-Up Roof
Gorilla Trekking in Buhoma Area -Bwindi Forest
Tree-Climbing Lions of Ishasha
Boat Safari on the Kazinga Channel
Game Drives in Queen Elizabeth National Park
Lion-Tracking Research with UWA and Uganda Carnivore Project
Explore the underground world of Kyambura Gorge
Chimpanzee Trekking Kibale Forest
Bigodi Wetlands Sanctuary guided Walk in East Africa's Jungle Swamp
Gorilla Permits and Chimpanzee Permits are included in Safari Price
This is a Private Safari and not a Scheduled Group Safari
---
Day 1 – Fly to Bwindi Impenetrable Forest:
The 8-Day Luxury Fly-In -Drive-Gorilla-Chimpanzee-Wildlife Safari begins as we pick you up at the Entebbe area Hotel you are staying at.
You will take a 75-Minute scenic flight with Aerolink Safari Airline to Kihihi Airstrip located near both the Buhoma Area of Bwindi Impenetrable Forest the Ishasha area of Queen Elizabeth Park. (15-Kilo Baggage Limit)
Upon landing, you are greeted by your driver-guide who will guide you along until your flight back to Entebbe. He will transport you to the exclusive Bwindi Lodge located in Buohoma, which is a one-hour journey from Kihihi.
Afternoon Activity Choices:  
Our Suggestion: The Batwa Experience
Spend time with the original people of the Forest, the Batwa People. The Batwa experience allows you to see the forest through the Eyes of its First People. Today the Batwa are conservation refugees, evicted from the forest in 1991 when Bwindi Impenetrable Forest became a National Park.
The Batwa Experience is seeing how these hunter-gatherers lived in harmony with nature, including the Mountain Gorillas. They built no villages, no houses, they moved when either nature or their culture dictated it. For thousands of years, the Batwa lived here long before the Bantu people migrated here from other parts of Africa. We highly recommend the Batwa Experience as one of the best activities in the Buhoma area.
Other Activities In the Buhoma area there is  Guided Village Walk which can be on foot or with a mountain Bike – in both cases it is a guided tour introducing you to local village life.
See crafts being made, meet a traditional healer,  learn how local beer and Waragi (Gin) is made Ugandan style, regular gardening, and preparation of meals, a school visit and dance by the original people of the forest – the Batwa People.
Other choices include a Mountain Bike Ride through the forest with a guide.
Bwindi Forest is a hiker's idea of paradise. There are countless trails in and outside of the park. Though you are in equatorial Africa, the weather is right for hiking since it rarely gets above 25 degrees Celsius
Meal Plan: Lunch and Dinner
Lodge:  Bwindi Lodge – Buhoma
---
Day 2 Gorilla Trekking in the Buhoma Area: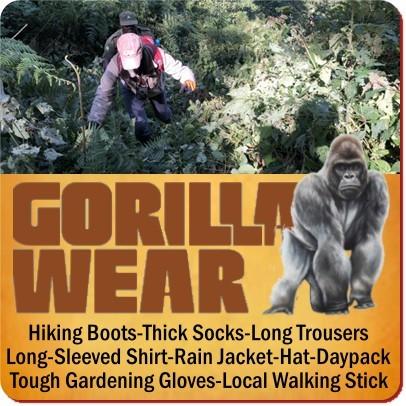 An early Breakfast – the right equipment and clothing for your Trek. Further Trekking Information that will make this day more comfortable is found here.
Gorilla Wear:  We suggest a day pack, packed lunch from the lodge, two liters of water, long trousers, long-sleeved shirt, hat, boots, thick socks, and sturdy gardening gloves.  All this is not to make a fashion statement but for your protection against nettles, thorns, brush.
Tuck your trousers into the socks for extra protection against fire ants and exposed skin from touching nettles that abound here.
We supply you with bottled water, a walking stick, and a porter. One porter is needed for two people.  The porter is an added plus since they assist you on the at times challenging trek.
The Gorilla Family that you will trek today is determined at the orientation with your input.  Your level of fitness and age are things that are part of the Gorilla Family determination equation.
The location of the gorilla family determines the length and difficulty of the trek on the day that you are trekking. Pre-Trackers are out at the crack of dawn location the different groups and calling in the GPS locations of the various groups.  The length of the trek is generally between three and five hours. At times a trek may be longer than that.
The Buhoma Area Gorilla Treks are three to five hours in length on average. You are for one hour with a Gorilla Family. There are eight-trekkers per group, plus the Uganda Wildlife Rangers and porters.
If you are unable to trek due to physical limitations, a sedan chair can be arranged. The Chair with you in it is carried by four porters who rotate with others carrying you.
Note: A second Gorilla Trek can be done by adding a day to this safari.
Dinner
Meal Plan: Breakfast – Lunch and Dinner
Lodge:  Bwindi Lodge – Buhoma
---
Day-3 Ishasha – Tree Climbing Lions:
Breakfast and we drive to Ishasha Wilderness Camp, an exclusive Wilderness Tented Camp in Ishasha, Queen Elizabeth Park. The Lodge is along the scenic Ntungwe River where lots of wildlife is found. (1 1/2 hour drive).
Check into your tent and become familiarized with the area you are staying in.  This is Tree-Climbing Lion Country and other wildlife.
Lunch along the Ntungwe River where you can see the elephants and other wildlife come to water and bathe.
Afternoon Game Drive in search of Tree-Climbing Lions and other wildlife which Uganda Kob, and Topi Antelopes, Elephants, Buffaloes, at times Leopards who are often in a tree, warthogs and more.
Traditional Sundowner in the Bush:
This an old Safari tradition that goes back to Colonial Times in Africa. The Drink of choice the days of was Gin and a heavy dose of Quinine in Tonic. The reason for it was to prevent Malaria. The Sundowner became a safari tradition across the country and which continues to this day.
At the end of the  Safari day, before sundown, you are taken to a place not too far from the lodge, where a sundowner is prepared for you. Drinks and snacks. In Uganda, Gin and Tonic mean Uganda Waragi with a Krest Bitter Lemon Soda.
We think it the right touch for your honeymoon.
Meal Plan:  Breakfast-Lunch-Dinner
Lodge:  Ishasha Wilderness Camp
---
Day – 4 – Queen Elizabeth Park – Mweya Area:
Breakfast and your last Game Drive in search of the Tree Climbing Lions once again and seeing the abundance of wildlife found here.
We drive north to Kyambura Gorge Lodge.
3 pm Boat Safari with Mweya Lodge Boat:  This is a smaller boat and for most a better experience than the UWA
larger Boat.  A private Boat Safari can be arranged for you upon requests.
The Afternoon Boat Safari on Kazinga Channel with its large hippo population, crocodiles, monitor lizards, elephant herds, buffaloes, antelopes, water birds including large groups of Pelicans.
The Boat Safari is one of the highlights to any Queen Elizabeth Park Visit.  For most, the two-hour boat-ride on this natural channel ends too soon
After the boat-safari, we take the scenic Explosion Crater Drive which is the highest point in Queen Elizabeth Park with 12 explosion craters – some of which are lakes, others covered by Savannah, Forests, and wildlife such as elephants and buffaloes can be seen here.  Views of Lake Edward, Lake George, the Western Rift Escarpment, the Rwenzori Mountains of the Moon, a Photographer's Paradise.  Lighting for picture taking will be just right.
Meal Plan: Breakfast – Lunch and Dinner
Lodge: Kyambura Gorge Lodge
---
Day 5- Queen Elizabeth Park – northern Area:
Lion Tracking Research – here you are with Researchers from the Carnivore Project and track the Collared Lions, leopards in this part of the park, not only will you see lions, but a learning experience about the lions.
The lion tracking research begins at the crack of dawn, and you can have breakfast after the experience.
Lunch
Afternoon Game drive.  Game drives are always with a Uganda Wildlife Ranger on board. A game drive is about 3 hours in length.
In this area of Queen Elizabeth Park, you will see lions, leopards, elephants, buffaloes, vast herds of antelopes, Bush Pigs, forest hogs.
Meal Plan:  Breakfast-Lunch-Dinner
Lodge: Kyambura Gorge Lodge
---
Day 6-Queen Elizabeth Park – Kibale Forest:
Breakfast and it is time to descend into what BBC has called the Lost Valley, also called the Valley of the Apes. We call it a giant gash in the Savannah, the Kyambura Gorge with its underground forest, the legendary River of Blind, home to chimpanzees and other primates, birds and small mammals.
This is a 3 1/2 hour guided hike that even if you spot no chimpanzees is worth the effort since what awaits, the natural wonders alone make it worth it.  No one has ever complained that their time here was not adventurous.
Lunch at your lodge
We drive two hours to Kibale Forest where you check into your lodge for the afternoon. Enjoy a time along with a crater lake with Uganda's Drink of Choice – Waragi, best enjoyed with a Krest Bitter Lemon Soda.
Dinner
Meal Plan: Breakfast – Lunch and Dinner
Lodge: Crater Lake Safari Lodge
---
Day 7 – Chimpanzee Trekking – Bigodi Wetlands Sanctuary:
Early Breakfast and we head for the Park Headquarters for your Chimpanzee Trekking Orientation before you head out for three to fours on the Chimpanzee Trek. Clothing for the day should be the same as in Bwindi Impenetrable Forest. You should have a liter of water with you.
Long before you see the Chimpanzees, you will hear them.  You will be with them for one hour.  Unlike the Gorillas, they tend to move around a lot more, and you will not remain in the same spot but move with them.
Mid-Afternoon – Bigodi Wetlands Sanctuary Hike-8 3 pm.  This is a guided 3-hour hike through a Jungle Swamp, much of it is on planks that act like a boardwalk above the swamp.  Your experienced guide is from the local community that has maintained the Wetlands for many years with thousands visiting each year.
During the Afternoon, you might spot Chimpanzees, Colobus Monkeys, also baboons.  The area is well-known for birds, the chief attraction is the Blue Turaco.When it comes to Mammals, you can see otters, bush pigs, mongoose, and the rare Sitatunga Antelope, to name a few.
Meal Plan: Breakfast – Lunch and Dinner
Lodge: Crater Lake Safari Lodge
---
Day 8 – Return Flight to Entebbe:
Breakfast and we take the journey to Kasese for your flight to Entebbe. You arrive in Entebbe at 11:45 AM. We suggest that that you schedule your flight out after 3:00 pm.
 If you are interested in this Luxury 8-Day Fly-In Gorilla-Chimpanzee-Wildlife Safari in Uganda– Fill out the Contact Form Below: