One of a Kind Luxury Gorilla Habituation Experience Safari
---
Safari Highlights for the 3-Day Luxury Gorilla Habituation Experience Safari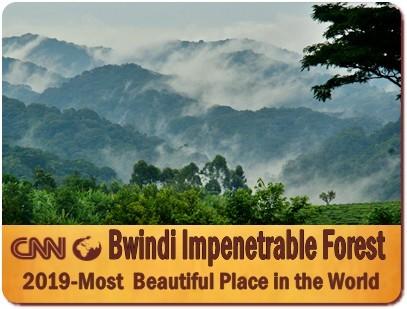 All-Day Gorilla with 4-Hours with a Gorilla Family on this Gorilla Habituation Experience
4-hours from Kigali
 Golden Monkey Trekking – Optional $90 per person.
Luxury Lodge Choice – Exclusive Clouds Mountain Gorilla Lodge or Upmarket Gorilla Safari Lodge 
Full-Board Meal Plan
4×4 Toyota Land-Cruiser – with Luxury Safari orientated Driver-Guide
Porter, Bottled Water, and Walking Sticks are included in the Trek
1,500 USD Gorilla Habituation Experience Permits are part of the Safari Package
Safety and Security Measures are in place both the Lodge and on the Gorilla Habituation Experience.
This Safari is dependent on available Gorilla Habituation Experience Permit.  This safari should be booked well n Advance.
---
Your 3-Day Gorilla Habituation Experience Safari in Detail:
---
Add a Day – Relax and Chill Out-Unwind on one of Africa's most scenic and Photographed Lakes:
In 2019 the scenery of Mgahinga Gorilla Park's Volcanoes as seen from Lake Mutanda became the "Third in the World Must Photograph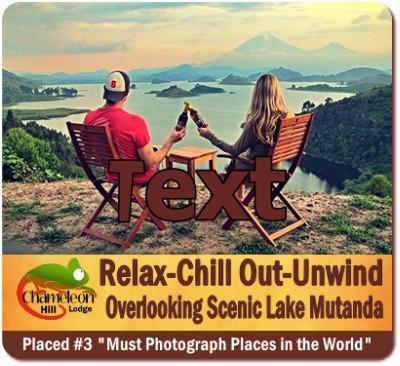 Locations."  Many of our Clients spend a day or two at the Chameleon Hill Lodge.  This is Africa's funkiest Lodge with its bright colors and Fairy Tale Castle Theme.
Chameleon Hill Lodge is an upmarket Lodge with one of the best views anywhere. It is the perfect way to end your Gorilla Trekking Safari in Uganda. The lodge is close to the border and just 2 1/2 hours from Kigali, Rwanda.
Lake Mutanda is a pristine Lake with emerald Isles framed by the brooding Volcanoes. One of our clients exclaimed that it was the most beautiful lake he had ever seen.
You can enjoy a Sundowner Boat ride here having Uganda's drink of Choice, Uganda Waragi with a Krest Bitter Lemon Soda. You can try your hand paddling a dugout canoe.  Birding Walk, island discovery boat rides can be done here among other things such as village walk and nature trails along Lake Mutanda.
Please Note:  The above Private Safari includes all activities and permits needed as described.  It is full board, water in the vehicle.  It does not include tips, drinks at lodges, laundry. Mount Gahinga Lodge does offer complimentary non-premium drinks to their guests.
Contact Us about this Safari
---
[bg_collapse view="button-orange" color="#4a4949″ expand_text="Enquire about this Safari" collapse_text="Show Less" ]
[contact-form subject="Kabiza Wilderness Safaris – 3-Day Luxury Gorilla Habituation Experience"][contact-field label="Name – First – Last" type="name" required="1″][contact-field label="Country I am writing from" type="text" required="1″][contact-field label="Email (Check for correctness)" type="email" required="1″][contact-field label="Number of Participants – 15 years Minimum Age" type="text" required="1″][contact-field label="Choice of Lodging" type="radio" required="1″ options="Clouds Mountain Gorilla Lodge – Exclusive,Gorilla Safari Lodge – Upmarket – Luxury"][contact-field label="Kind of Gorilla Safari" type="checkbox-multiple" required="1″ options="Gorilla Habituation Experience – Uganda 1500 USD permit – 4 hours with a gorilla family"][contact-field label="Fly into " type="checkbox-multiple" required="1″ options="Fly into Kigali – Rwanda -Gorilla Habituation Experience in Uganda,Fly-In Safari from Entebbe to Kisoro for the Gorilla Habituation Experience"][contact-field label="Add Additional Activities" type="checkbox-multiple" options="Batwa Pygmies – Cultural Encounters – Uganda,Hiking through Bwindi Impenetrable Forest — Volcano Climbs-Dugout Canoe,Golden Monkey Trekking – Mgahinga Gorilla Park"][contact-field label="Beginning Date of Safari" type="date"][contact-field label="Ending Date of Safari" type="date" required="1″][contact-field label="Detailed Input regarding your Safari" type="textarea" required="1″][/contact-form]
We respect your Privacy – The information you entered on the Gorilla Safari Planner will not be shared
[/bg_collapse]