A 5 Day Upmarket Murchison Falls Park Big 5 Safari
Big 5 Wildlife – Primates – Birds – Scenery of Murchison Falls Park and Ziwa Rhino Sanctuary
---
This Private 5-Day Luxury  Murchison Falls Park Big 5 Safari provides the best opportunity for seeing the Big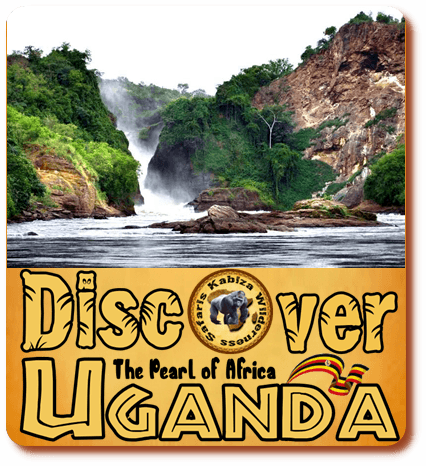 5 Plus in Uganda which includes trekking Rhinos on foot and spotting the elusive Shoebill Stork, the plus being the Chimpanzees that you will trek in Budongo Forest.
Murchison Falls Park is the best all-around option for a wildlife safari in Uganda from Kampala. This 5-Day upmarket Safari combines Rhino and Chimpanzee Tracking, Wildlife, a Wildlife Boat Cruise on the River Nile along with best upmarket lodge locations in the park.

This is a Big-5 Plus Safari since it comes with Chimpanzee Trekking. One of the critical features of this safari is the shorter Drive-times rather than 5 1/2 straight drive times from and to Kampala, this safari breaks those down into more relaxing drives.
Though we suggest lodges, in the Case of Paraa Lodge we can use the exclusive Baker's Lodge. However, that involves crossing the Nile for Game Drives.
---
Day 1 – Ziwa Rhino Sanctuary – Amuka Lodge:
We depart your hotel in Entebbe at 6:30 AM if you are staying in Kampala at 7 AM.  The drive to Ziwa Rhino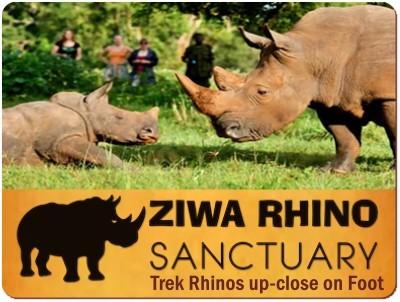 Sanctuary is 3-hours from Kampala.
Upon arrival, before checking in at Amuka Lodge, trek the Rhinos on foot. This is a 1 1/2 hour to 2-hour trek with knowledgeable Rangers who will guide you within 10 meters to these magnificent, Endangered Animals that you will see here.  Ziwa Rhino Sanctuary is a conservation effort that will result in the release of some of the Rhinos into Murchison Falls Park at a time in the future.
Check into Amuka Lodge and have lunch.
During the late afternoon take a boat ride and explore Lugogo Swamp which is one of the Better Spots in Uganda to see the elusive ancient appearing Shoebill Stork. They usually are found fishing for lungfish at the edge of the swamp. There are other Water Birds you will see here, hopefully also some otters, the semi-aquatic Sitatunga Antelopes, Bushpigs and other wildlife during your paddled boat ride through the swamp.
Meal Plan:  Lunch-Dinner
Lodge:  Amuka Lodge
[bg_collapse view="button-orange" color="#4a4949″ expand_text="Amuka Lodge" collapse_text="Show Less" ]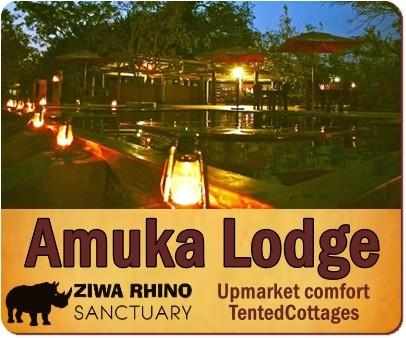 Amuka Lodge – Ziwa Rhino Sanctuary:
This is the only upmarket Lodge inside of Ziwa Rhino Sanctuary.  The rooms are permanent Tents on platforms.  The lumber for the lodge came from an abandoned nearby Sawmill, and the fabrics are locally made.  Each tented cottage comes with an en-suite bathroom. There is a porch where you can sit and relax, taking in the sights and sounds of the Wilderness around you.
The Main Lodge is where you take your meals which our clients have enjoyed immensely.  BBQ Meals are often prepared for client South African Style along with a friendly, mostly South African Wine List for your enjoyment.
There is also a Swimming Pool for your enjoyment where you can take a refreshing dip after Rhino Trekking.  Morning Coffee or Tea can be served at your Tented Cottage.
Vegetarians and Vegan can be accommodated here without any problem, just let us know.
[/bg_collapse]
---
Day 2 – Murchison Falls Park – Paraa Safari Lodge:
After Breakfast, we head for the Paraa area of Murchison Falls Park.  This is a 3-hour drive, we cross the River Nile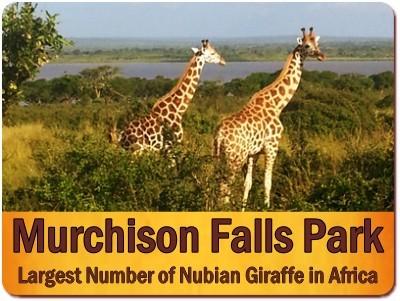 using a Vehicle Ferry to the Wildlife side of the Park and check into Paraa Lodge where there are a variety of choices when it comes to rooms.
There are not many Wildlife Parks where the River Nile flows through it, Murchison Falls Park is in a category all by itself with the River Nile which creates here the most powerful waterfall in the world as it tumbles down the Western Rift Escarpment and continuous to flow toward Egypt,
During the late afternoon, we take the first game drive. Your Land Cruiser is equipped with a pop-up roof.  Murchison Falls has the largest population of Africa's largest Giraffe, the Rothschild, also called Nubian, Baringo or Uganda Giraffes. There are also large Elephant herds, Buffaloes, thousands of Antelopes, Lions, Leopards, and more.  A game drive is about 3-hours in length.
Meal Plan: Breakfast-Lunch-Dinner
Lodge:  Paraa Safari Lodge
[bg_collapse view="button-orange" color="#4a4949″ expand_text="Paraa Safari Lodge" collapse_text="Show Less" ]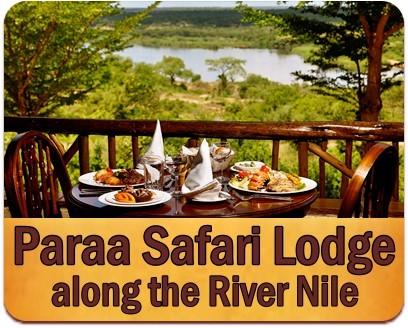 Paraa Safari Lodge:
The lodge is the upmarket lodge of choice because of its location. You are on the wildlife side of the Park, close to the beginning of various Game Tracks. The added plus is that the Nile Activities such as the Boat ride up the Nile up to the falls is done from here.
Paraa Safari Lodge gives you a choice, from Standard Rooms to Suites, Luxury Tents, and even the Queen's Cottage that has a private setting overlooking the Nile.  When it comes to size, it is one of the larger lodges in Uganda, however for the guests that stay there that is not an issue, since somehow it does not have the largeness feeling.
The Lodge has a very nice swimming pool that you can enjoy. The verandah dining area gives you views of the Nile while you eat the tasty meals that are being served.  The Breakfast especially hits the spot and is better than at most other lodges of a similar price range.  A Bush-Breakfast can be arranged for you at an additional cost since many things must be arranged for it.
[/bg_collapse]
---
Day 3 – Murchison Falls Park
Early morning Game Drive before or after Breakfast.  Game Drives begin at dawn, which is around 6:30 am.  Instead of a Game Drive, you can take the Optional Hot Air Balloon Ride at sunrise.
[bg_collapse view="button-orange" color="#4a4949″ expand_text="Hot Air Balloon Safari" collapse_text="Show Less" ]
Optional:  Hot Air Balloo Ride over Murchison Falls:
Murchison Falls Park is presently the only park in Uganda where you can take a Sunrise Hot Air Balloon over the Savannah.  Here you see Wildlife from above from Elephants to Lions.  If you choose the Hot-Air Balloon Option, it means an early rise for you before dawn and a drive to the launch site.  There you board the gondola of a Safe and fully certified Hot Air Balloon.
The Ride is about 1 1/2 hours in length and on a clear day, you have some fantastic Photo-Opportunities of the sunrise over the savannah, wildlife and the scenery below.
At the end of the Hot Air Balloon Ride, there is a traditional Bush Breakfast that awaits you.  This is that added plus. The breakfast is prepared on the Savannah by Paraa Safari Lodge Staff there is also the traditional Bush Breakfast Champagne, sorry most often Sparkling Wine.
[/bg_collapse]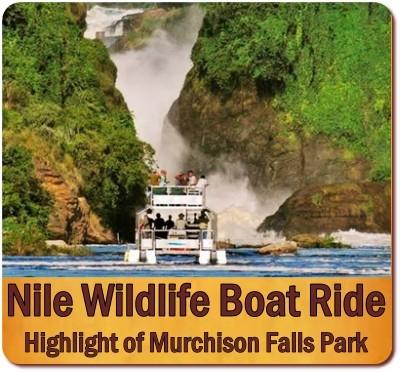 During the Afternoon, it is one of the highlights in the Park, the famed Nile River Boat Safari to the bottom of the falls.  This is your chance to see the large Nile Crocodiles on the banks of the Nile, Pods of Hippos frolicking in the water, Water Birds in abundance.  The Boat Ride up to the Falls is purposely on the slow side for you to take pictures of the Elephants that come to bathe and water, Buffaloes, Antelopes and at times the rare Shoebill Stork.
At the bottom of the falls, you have the choice to remain on board and return by boat to Paraa, or you can disembark and hike up the side of the Falls on a guided hike. When you reach the top, you are met by your driver who returns you to the lodge after you cross the River Nile by ferry.
Famous Visitors from History that visited Murchison Falls Park:  
Samuel and Florence Baker where the first to discover Murchison Falls, their boat was capsized by a Hippo, and they were stranded on the Banks until rescued by their expedition party.  Winston Churchill in 1907 walked down the trail that most walked up in 1907 and boarded a boat at the bottom of the falls and sailed down the Nile toward Khartoum. Katherine Hepburn and Humphrey Bogart were here for the making of the Movie "the African Queen."  Ernest Hemingway's plane crashed at the falls after getting snagged in an old Telephone Wire. One cannot leave out Idi
Optional Sunset Boat Ride:  You have the option to take a Sunset Boat Ride while in the Paraa Area of Murchison Falls Park. This can be done on either one of your evenings in the Paraa area.  Sunset over the ancient River Nile, there is nothing that compares.
Meal Plan: Breakfast-Lunch-Dinner
Lodge:  Paraa Safari Lodge
---
Day 4 – Murchison Falls Park – Chobe Safari Lodge:
Morning Game Drive in the Paraa area of the park and then we continue through the park toward Chobe Safari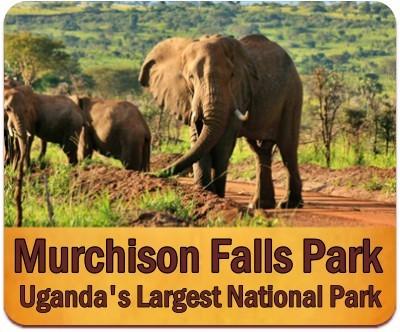 Lodge.  The journey is about 2 1/2 hours and is like a Game drive, and there is a lot of wildlife to be viewed along the way.
Check into Chobe Safari Lodge which is an African Lodge of Distinction.  President Museveni of Uganda has been a frequent visitor, Kanye West and Kim Kardashian were here in October of 2018 on their visit to Uganda where Kanye West did a recording along the River Nile.
Afternoon Game Drive or you can choose a Nature Walk in that area of Murchison Falls Park. Both the game drive and the Nature Walk are both about three hours in length.  This is one of the few areas where you can take a Hike with Uganda Wildlife Authority Rangers.
Meal Plan: Breakfast-Lunch-Dinner
Lodge: Chobe Safari Lodge
[bg_collapse view="button-orange" color="#4a4949″ expand_text="Chobe Safari Lodge" collapse_text="Show Less" ]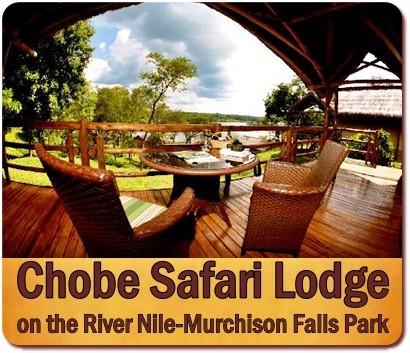 Chobe Safari Lodge:
Chobe Safari Lodge is located above Murchison Falls itself and below Karuma Falls on what is called the Victoria Nile.  The lodge is a case of a phoenix rising from the ashes of the past to replaced by what has become by one of finest luxury Lodges in Uganda. The lodge is closest to Kampala in Murchison Falls, from here you can explore both Murchison Falls Park and Budongo Forest which is part of the greater Murchison Falls Wildlife Reserve.
You have the choice of Rooms, Suites, Luxury Tents along the Nile, and several Cottages such as the Presidential Cottage.  The Lodge has an Olympic size Swimming Pool. There is also great Gym that CNN Travel named as one of the fitness Centers with the best views.
Chobe Safari Lodge is not only known for its setting but for its excellent service and superb meals that are served here along the Nile.
[/bg_collapse]
---
Day 5 – Budongo Forest – Chimpanzee Tracking:
Breakfast and a Morning Game Drive near Chobe Safari Lodge and then drive to Budongo Forest where you arrive near Lunchtime.  Budongo is the largest Mahogany forest in East Africa.  Illegal Logging is a constant threat to the forest due to the value of the timber that is found here.  If Budongo Forest were not part of Murchison Falls Park, the forest would not be what it is today.
Enjoy Lunch at the Budongo Eco-Lodge, which is a mid-range lodge in the forest.
After Lunch, it is  Chimpanzee Tracking in East Africa's largest Mahogany Forest. Budongo Forest is also an excellent spot for birders – it is part of the Murchison Falls Wildlife Reserve.
The Jane Goodall Institute monitors the Chimpanzees here – the Chimpanzees are habituated for Visitors –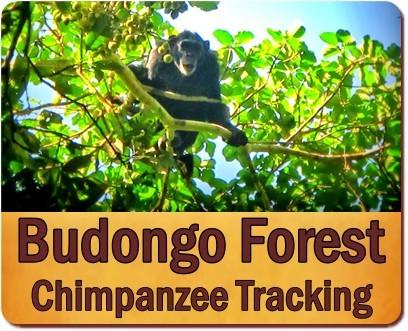 meaning that they will continue their activities while you observe them
The trek is about a three-hour walk with guides and trackers bringing your up close to our closest cousins – the chimpanzees. You should wear jeans or long trousers, long-sleeved shirt, stout walking shoes or boots, a broad-brimmed hat is good, also a day-pack where you can carry at least a liter of water.
There are other primates that you will see here and countless birds, and if you are a lover of Butterflies, this is one of the best areas in Uganda for Butterflies.
Afterward, we drive back to Kampala arriving after 8 pm in the city at your lodging, longer if we drive you to Entebbe Airport.
Lodging arrangements can be made for you either in Kampala or Entebbe.
Murchison Falls Park Big 5 Safari includes: All activities listed except it notes – optional. All Lodgings listed and it is full board. Bottled water is in the vehicle. It includes – Toyota Land Cruiser with Pop-Up roof for best game viewing. English-speaking Driver – Guide with extensive knowledge about Uganda, Wildlife, Culture, and is customer service orientated. It does not include Drinks at lodges such as alcohol or sodas, laundry, tips.
---
If you are interested in this Private Luxury Murchison Falls Park Big 5 Safari please contact us

[bg_collapse view="button-orange" color="#4a4949″ expand_text="Contact us about this Safari" collapse_text="Show Less" ]
[contact-form subject="5-Day- Luxury Murchison Falls Park Safari"][contact-field label="Name" type="name" required="1″][contact-field label="Email" type="email" required="1″][contact-field label="The Country I am writing from" type="textarea" required="1″][contact-field label="Number of Participants" type="text" required="1″][contact-field label="Dates of Safari" type="text" required="1″][contact-field label="Message" type="textarea" required="1″][/contact-form]
[/bg_collapse]
---