Visitors to Uganda Agree -"Ugandan Pineapples are simply the Best."
The Best Pineapple in the World is a Ugandan one.
---
The Golden Ugandan Pineapples are simply the B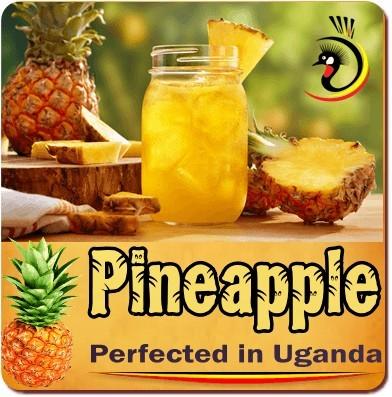 est, a Notch Above the Rest. Visitors to Uganda rave about Ugandan grown Pineapples. They cannot believe the sweetness and full flavors—the texture of the Pineapple and how juicy they are.  The Pineapple did not originate in Uganda, but Pineapples were perfected in Uganda.

The bursting with taste, zesty pineapples is one reason that visitors keep coming back to Uganda since exports of Uganda's tasty Pineapple reach few countries.
The versatile Ugandan Pineapple came from Asia but was perfected in Uganda. Here there is just a mixture of tropical sunshine, and the soil is just right to grow high-quality pineapples.
Visitors to Uganda from the Caribbean, Central America, even Hawaii are always amazed by the taste and flavor of Pineapples grown in the Pearl of Africa.  You have not eaten a pineapple until you have eaten one that is home-grown in Uganda.
---
One thing I have heard over and over from visitors to Uganda is that Ugandan Pineapples are simply the Best they had ever tasted anywhere. Pineapples may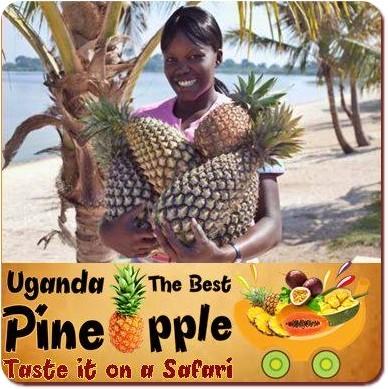 have originated in Paraguay, but they were perfected in Uganda – the Pearl of Africa. There is nothing like the aroma of a freshly cut Ugandan Golden Pineapple, and the fruit is filled with juice, the center so soft that you can even eat it.
It is simply an amazing and yet simple fruit dessert after most any meal, a delight to your palate.
Ugandan Pineapples are simply the Best, but you cannot find one in the West. You will not find many tins (though they are here in Uganda) of Pineapple on Western Supermarket shelves. Most Westerners have no idea what the perfect fruit tastes like until they visit the Pearl of Africa – Uganda. No other pineapple can measure up to the one from Uganda.
What Ugandans often do not realize is that pineapples were brought to Uganda; they are not endemic to Uganda. They came to Uganda from Asia via the trade routes from the Swahili Coast of Kenya. However, Uganda has perfected them with its soil and weather.
You can buy Pineapples most anywhere. There are the roadside vendors, fruit and vegetable stands, Wheel-Barrow Vendors, and Supermarkets.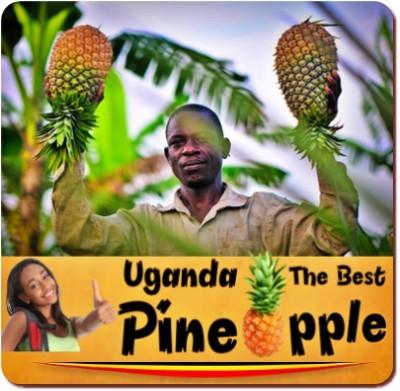 Ugandan roads I A beautiful sized pineapple will cost you about 2.00 USD or less. Indeed a bargain and another thing to note is that Ugandan pineapples like most Ugandan fruit and produce are organically grown in the Pearl of Africa.
If you are coming to Uganda, be sure to order some pineapple at breakfast, lunch, or dinner, you will be glad that you did.  Pineapple will certainly complement almost any meal…try some or buy some Ugandan dried Pineapples,  Pineapple Jam, or Wine to take home.
In Uganda, they are sliced and eaten. You can buy a dried pineapple that is also very delicious, but after that the rare pineapple cake in a restaurant, but that is about it.
Don't miss out on the Ugandan Pineapples, and they are simply the Best in the world…Enjoy them on a Safari that combines Gorillas-Chimpanzees and Wildlife, along with Ugandan Foodie Adventures.
[starbox]