When – Where do I get my Uganda Tourist Visa? When-Where-How?
When – Where do I get my Uganda Tourist Visa? The Practical When-Where-How of Obtaining your Ugandan Tourist Visa.
---
 

The When – Where – How Ways of Obtaining your Ugandan Tourist Visa

When -How-Where – On Arrival is the Easiest Way for most
When – Where do I get my Uganda Tourist Visa?  When-How-Where do I obtain my Ugandan Tourist Visa?
There are Three Ways that you can obtain a Ugandan Tourist Visa.
1-On Arrival – 2-Online – 3. At a Ugandan Embassy
The Easiest Way is on arrival at Entebbe International Airport or at the point of entry into Uganda at the border. It is the no-hassle easiest way without having to spend frustrating times on line filling out forms, using an at times frustrating, to some, online system. 
Some erroneously think that obtaining the Ugandan Tourism Visa online will speed up the process at Entebbe.  For most, it does not. You still have to deal with the most often friendly and helpful Immigration official who always has to stamp your passport with the actual visa.
All arriving Tourists have to fill out an arrivals card whether you enter Uganda at Entebbe or another point of
entry, such as at the border with Rwanda, Kenya, DR Congo,  South-Sudan. 
To expedite the process, have all pertinent documents in hands such as a valid Passport-that is valid for at least six more months. You also need an International Yellow-Fever Certificate, which is valid for life and a copy of your return flight. Those on Safari, a copy of the itinerary can be helpful.
Ugandan Visa – When? Most prefer the hassle-free on arrival in Entebbe or at other points of entry, such as the border. It means that you invest the least amount of time. Need no Photos, no need to fill out online forms, and wait for an answer from Uganda Immigration. No extra fee for online credit card payments. The Arrival system is the one preferred by most Tourists to Uganda. 
If you are uncomfortable with obtaining your Visa on Arrival: There two other ways found below.
---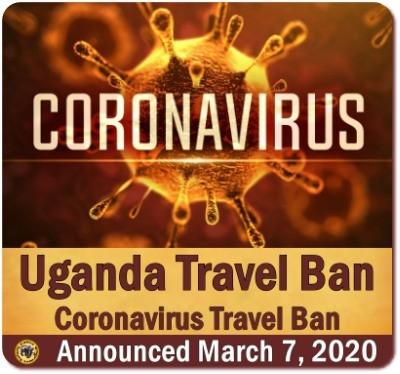 March 8-2020 Coronavirus related Travel Ban:
Please be advised that you may not be allowed to enter Uganda without a 14-Day Quarantine
The Coronavirus pandemic has affected the travel plans of many. On Saturday, March 7, 2020, Uganda put a travel ban into force. The Minister of Health announced that those coming China, South Korea, Japan, Iran, Italy, Germany, France, and Spain should not travel to Uganda during the Coronavius pandemic.
Those that arrive will be quarantined for 14-days, expenses for that being paid by the Traveler.  On March 8, 2020, 22 visitors were quarantined. All 22-Travelers have chosen to return to their country of origin.
This temporary travel plan will inconvenience tourists, however, Uganda is doing what it can to keep the Coronavirus from gaining a foothold in the country. Uganda remains Coronavirus-Free at present.
---
Apply online for your Ugandan Tourist Visa at Uganda Immigration:
If you want the Visa Issue settled before you arrive – then for you it is using the online Application
---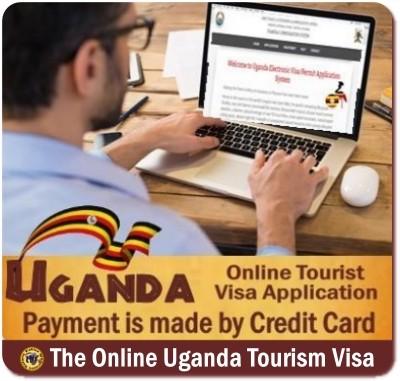 For most visitors, the economical and efficient way is to buy the Ugandan Tourist Visa on arrival.  For those that want the assurance of having their Ugandan Tourist visa in hand, there is the online way.
How does Uganda 50 USD online Tourist E-Visa work?
Fill out the online application, upload any supporting items, pay with your credit card (there is a credit card fee), and a few days later, you have an email with a barcode in it.
This email. Printed out,  is what you present upon arrival to the immigration officials where it will be scanned, and the visa will be pasted into your passport as you are welcomed to Uganda.
Applying and receiving an online Visa does not speed up the arrival process.
The Uganda Tourism Application Online Process:
Apply online for your
You will receive an email with a barcode upon successfully applying for your visa from Uganda Immigration. Put the Email in your passport when traveling into your passport for safekeeping.
Upon arriving at Entebbe International Airport, hand the Immigration Official your passport and printed copy of the email with the barcode.
They will scan the barcode and paste the visa sticker into your passport. Welcome to Uganda – the Pearl of Africa. Welcoming, Friendly-Safe, and Secure.
When-How-Where do I apply for my Ugandan Tourist Visa: You can do so online and use your credit card with a fee added. 
Having the E-Visa does not speed up the Immigration check-in at Entebbe International Airport.
---
Apply for a Uganda Tourism Visa at the Ugandan Embassy or Consulate in your Country:
You can also apply for a Ugandan Tourist Visa through the Ugandan Embassy in your country.  It is the most time-consuming and most expensive way unless the Embassy is close by, and it is convenient for you to visit the Embassy.
For Example, in the USA, you send your passport to the Ugandan Embassy with overnight mail and have a return envelope inside for them to use to return the passport to you.  That alone is substantially more than the on-arrival visa cost of 50 USD.
It is not the easiest way for you to obtain a Ugandan Tourism Visa. It adds layers to the process. It is is the way it used to be, but it is not a convenient way of doing it.
---
Do not use a Third-Party Visa Service: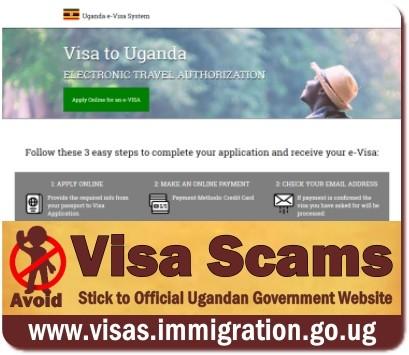 There is no need for you to use a third-party service to obtain a Ugandan Visa. Often such services turn out to be fraudulent, and you lose your money and receive no Ugandan Tourism Visa.
The Directorate of Citizenship and Immigration Control (DCIC), Ministry of Internal Affairs of the Republic of Uganda, would like to inform all our esteemed clients of a scam Website.
Several Websites will attempt to con you. Bypass all of that by using the official Ugandan E-Visa Website only.
Do not use https://www.evisaforuganda.com/index which on top of fraudulently claiming to be an application portal for electronic visas ( e-Visas ) to Uganda, goes on to charge applicants way beyond the official fees charged on the official e-visa portal 
The Official Website, www.visas.immigration.go.ug provides for applications for Tourism Visas: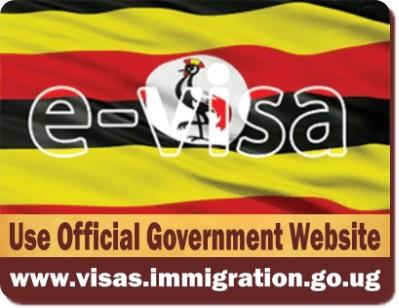 This unofficial website is designed to confuse clients and appear as though it is legitimate, yet its sole purpose is to fleece unsuspecting clients. While the unofficial site has three steps and has No official logo. The original official application site has the DCIC Logo and Uganda Court of Arms. It is completed in four steps which are: Selecting the Application type; Fill the form; Add documents, and submit your application.
It is highly suggested that you do not use the unofficial scam website. Please restrict submissions of your applications using the Official Electronic Visa Application Portal for the Republic of Uganda, which is www.visas.immigration.go.ug. The Government of Uganda SHALL NOT BE HELD RESPONSIBLE for any loss, monetary, or otherwise accruing from using the said fraudulent website.
Though most 3rd Party Advisors are legitimate, we see no need for one for Tourists to East Africa and to Uganda, where you can get a Visa including the East African Visa on arrival. Do not use online Third-Party Visa Agencies or Suppliers.
---
Wrong and Confusing Uganda Visa Information on the Internet:
Forget the outdated or incorrect information that you find on kinds of websites, including even Foreign Embassies in Uganda, got it wrong. At present, there are 3-Ways to obtain your Visa for Uganda.
On Arrival
Online from Official Ugandan Website
at a Ugandan Embassy or Consulate in your Country
Check with your airline – ask if you can obtain a visa on arrival in Uganda.
They would not allow you to board the flight without a visa if you could not obtain the Ugandan Tourism Visa on Arrival.
If it changes-we will post it right on this page
List of visa exempt nationalities i.e. nationals of countries that do not pay for Uganda visas
Comesa
East Africa
Others
Angola
Eritrea
Malawi
Madagascar
Seychelles
Swaziland
Zambia
Comoros
Kenya
Mauritius
Zimbabwe

Botswana

Tanzania
Rwanda
Kenya
Burundi

Antigua
Barbados
Fiji
Grenada
Lesotho
Sierra Leone
Solomon Islands, The Grenadines
Vanuatu
Ghana
Cyprus
Bahamas
Belize
Gambia
Jamaica
Malta
Singapore
St. Vincent-Tonga

Ireland

Libya
---
The East African Visa Option: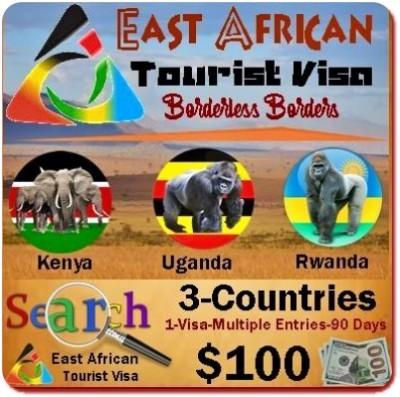 The East African Visa is right for those that want to visit Uganda, Kenya, and or Rwanda. It is obtained from the country that you visit first in East Africa. (Tanzania is not a participant in the East African Visa)
The East African Visa allows you to enter and reenter the participating countries for a period of up to 90-Days. The cost is 100 USD. It is practical for those that want to begin their safari in Entebbe, Uganda, and end it in Kigali, Randa.
It is also great for those that want to Trek Gorillas in Uganda and then continue to the Masai Mara from Entebbe. It is one Visa that allows you to access three Countries, Uganda, Kenya, Rwanda.
It allows you to hassle-free travel between three East African Countries.
---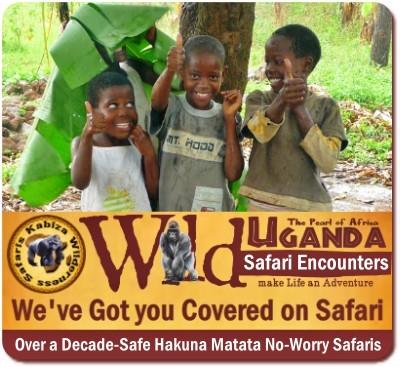 Our Practical Advice:
Tourism is one of-of the essential income producers for Uganda.  10% of Uganda's income comes from Tourism. Only Coffee sales exceed Tourism Tourism generates more revenue than all Ugandan manufacturers and Banks.  Tourism is on the increase each year. We can measure it directly by the number of Clients we handle.
Visas and Tourism go hand in hand. Uganda has an online visa system, go to Uganda's Facebook page, and you will see that the online system lacks practical functionality that makes the process easier. in our opinion, it does not
Uganda's dual system of online and on arrival, visas gives Tourists a choice.  The online system does not make the arrival process any quicker since the actual visa has to be put into your passport on arrival.
On arrival is the easiest way to obtain a visa, and no bureaucrat should change the system unless it is easier. Even Trendy Rwanda, with its emphasis on online Services as of January 1-2018 has a dual system, again most of our Clients use the on-arrival system.
---