Is Mgahinga Gorilla Park in Uganda SAFE to Visit?
An often-asked Question: Is it safe to visit Mgahinga Gorilla Park?
Is it SAFE to visit Mgahinga Gorilla Park in Uganda for Gorilla Trekking? This is a question asked by those wanting to visit the park for Gorilla Trekking, Golden Monkey Trekking, Volcano Climbing, Cultural Encounters on the Batwa Trail, and Hikes in the park. 
Here you will find our no-spin answers based on current conditions in the Park and the surrounding area, the latest Uganda Wildlife Authority updates, and recent security updates from the Uganda Police and Military. This page will be updated if there are any changes in the security status of the park and the surrounding area and communities.
Additionally, we consider our clients' recent on-the-ground experiences, plus our firsthand Tour Guide insights based on over a decade of safe and secure Safaris that have included Mgahinga Gorilla Park.
Is it SAFE to visit Mgahinga Gorilla Park?
Is it safe to visit Mgahinga Gorilla Park? – The Safe, Secure, Hakuna Matata (no worries) Outcome of a Safari is more critical than momentary income. During the past 20 years, Uganda has provided secure Gorilla Trekking, Volcano Climbing, Hiking, Nature Walks, Birding, and Golden Monkey Trekking in Mgahinga
Gorilla Park without Fail. The Permit Prices, the daily entrance, and activity fees also provide security measures implemented by the Uganda Wildlife Authority and its highly trained Rangers, the Ugandan Military and Security Forces, and the Police, including Tourism Police.
No one can enter the Park without a Ranger Escort, and all activities are actively monitored for safety and security reasons. Two Australian Tourists found out recently that even flying a drone over the park was a Giant "no-no." A Ranger shot down the drone, and the tourists were taken into custody, questioned, and later released with a stern warning.
Is it SAFE to visit Mgahinga Gorilla Park? Here is the reality, Uganda is the Premier Primate Destination in Africa, no matter what you may read online, in newspapers, in travel brochures, or hear from some travel agent in London, New York, or Sydney. 
Mgahinga Gorilla Park is one of Uganda's Two Gorilla Sanctuaries. In the last few years, Uganda received thousands of Trekkers from around the world, and a portion of those who chose to trek the gentle giants in the Park found was safe and secure. The Park has no guerillas, only Gorillas with which they had the most amazing encounters that, for most, are the experience of a lifetime.
Safe Lodging in Mgahinga Gorilla Park:
Is it safe to visit Mgahinga Gorilla Park? Beyond the Park is Mount Gahinga Lodge, a safe and secure luxury lodge with 24/7 Lodge Security, supplemented by elite rapid response Military Teams, Police, and Tourism Police.
With the security, Mount Gahinga Lodge remains a most welcoming and friendly lodge since the security measures there are most often not seen by Guests.
The Park, though on the border of Rwanda and DR Congo, is a natural Fort Knox where both Primates and Visitors are safe and secure. 
Preventive Measures are taken at every level, whether you are Birder, Hiker, Primate Trekker, or Volcano Climber. During all activities, you are guided by one or more Uganda Wildlife Authority Rangers.
Like Bwindi Impenetrable Forest, there have been no guerrillas in the Park, only gorillas.
Whether you are inside the Park, on a Gahinga Batwa Village Walk, or on a hike to the nearby Caldera, your Safety and Security is of concern to everyone.
COVID-19 has changed how you visit Mgahinga Gorilla Park:
COVID-19 has changed how we live, travel, and go on Safari in Uganda, including Mgahinga Park. Safety includes your health and the health of our close cousins, the mountain gorillas.
The Uganda Wildlife Authority, its veterinary staff, and the Ministry of Health have instituted COVID-19 Protocols that will protect tourists, the local population, UWA Rangers, and, importantly, the gentle giants of the forest.
Visitors to Mgahinga Gorilla Park that want to trek the gorillas must now follow the COVID-19 Standard Operating Rules for trekking.
The use of hand sanitizer and masks are now mandatory while in the presence of a gorilla family. The distance rule from the gorillas has been extended from seven to ten meters.
One other notable change has a porter to assist you on the trek. Porters are not allowed to reduce the number of people visiting the gorillas, and exceptions to the rule are trekkers with a disability. For further reading, we suggest the COVID-19 Protocol page and the porter page. 
Read more about Gorilla Trekking Rules during the Covid Pandemic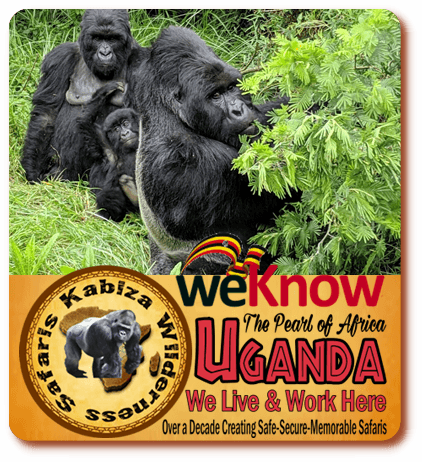 Our Take: Is it SAFE to visit Mount Gahinga Gorilla Park?
We Think and know from personal experience that the safest place to be in Uganda is on a Safari.
We would add that the Park is one of the safest parks in all of East Africa, based on a decade-plus experience bringing Trekkers to the park without one incident.
President Museveni has been leading the country since 1986. One of the most important things he has done was to create a stable, secure, safe state for Ugandans and Visitors from afar.
Safety, Security, and stability are necessary for tourism to thrive. They are all in place at Mgahinga Gorilla Park.
Safe Safaris are the norm and not the exception. If you are concerned about safety and security, we ask you to look at some of the other Security pages.