Tourist Visa Requirements for Rwanda
When and Where do I get my Tourist Visa for Rwanda – the Present Visa Reality
On Arrival Tourist Visas – Online – From Rwandan Embassy-Consulate in your country when
---
and Where do I get my Tourist Visa for Rwanda – things have become easier for Tourists entering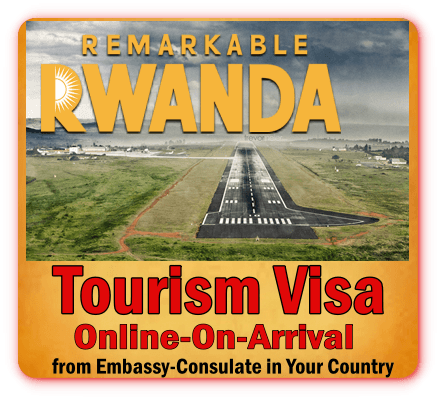 Rwanda. Effective January 1-2018 – 50 USD Tourist Visa on Arrival from any country. You can also choose to pay in the other listed currencies -35 UK pounds, 45 Euros respectively. Visa Card Payment maybe not possible at all points of entry.  We advise Cash on you. 
The online process to obtain either a Tourist Visa to Rwanda or the East African Tourism is too cumbersome – too much paperwork and it takes too much time. It left out the Keep it Simple Principle. 
Thank Goodness, now Tourists to Rwanda can get their Tourist Visa at the point of entry.  If you are continuing to Uganda on your Safari visit to Africa with us you can obtain a Ugandan Tourism Visa at the border crossing into Uganda.
On Arrival Visa is the Best option for most Visitors to Uganda
When and Where do I get my Tourist Visa for Rwanda – Other Requirements
An International Yellow Fever Vaccination Certificate is required for all visitors if you come from or traveled through a country that is part of the World Wide Yellow Fever Zone Country such as Tanzania or Uganda.
Please keep in mind that your passport must be valid for 6 months when you enter Rwanda and it is best to have enough free pages for visa stamps, entry and departure – also make sure that you have about 6 months before your passport expires.  Things regarding as to when and where do I get my Tourist Visa for Rwanda have changed but there is also another choice that you have.
Rwanda is responsive to what Tourists prefer since January of 2018 you can get the Rwanda Tourism Visa on arrival
Rwanda Visa Application:
---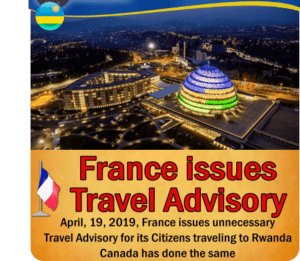 France issues Travel Advisory for its Citizens traveling to Rwanda:
France unexpectantly issued an unexpected Travel Advisory for parts of Rwanda on April 19, 2019. This was in our opinion a totally unnecessary move by France.  They should be concentrating on Mali at the present time and not Rwanda where once again as in the past they are totally out of touch with the on the ground reality.
Canada, unfortunately, has followed suit and issued their own Travel Advisory for Rwanda.  Are you in danger while traveling to Rwanda? Rwanda's Track Record for safety and security is one of the best in Africa.  Just do a Google Fact check and you will concur.
We are a Ugandan Tour Operator that also does Safaris in Rwanda and we are passionate about Rwanda and in this case, the Travel Advisory is either premature or unwarranted.
---
Best Choice might be the East African Tourist Visa – 100 USD
---
If you are visiting other East African Countries or continuing your safari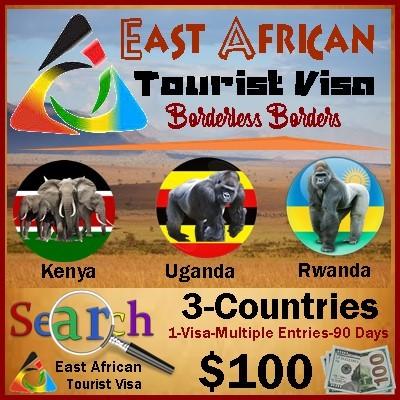 into Uganda – here is your best choice that would negate all of the above as to when and where do I get my Tourist Visa for Rwanda.
Presently the East African Visa can only be obtained online which is as we state above is a cumbersome process unless Rwanda changes things like requiring a letter of invitation which means more back and forth with a Tour Operator such as ourselves – that is why we believe that if you are only visiting Rwanda and Uganda and not Kenya get the Rwandan Visa (as of January 2018) at the point of entry and the Ugandan Visa at the border crossing.
Sadly, Decisions that have a direct effect on Tourists are often thought up and implement by Bureaucrats and not those involved in Tourism.
The East African Tourism Visa Touts itself with the "Borderless Borders' Slogan.  Take it one step further and apply the "Kiss Principle" keep it simple and short. The Tourism Dollar is needed ad wanted by East African Countries, Immigration Officials in various countries are often a roadblock to successful Tourism and ease of Travel.
For more information on the East African Tourist Visa see the page indicated.
---
Croc Alert: Do not use Rwanda Travel Authorization Service -Clients lost money – no Visa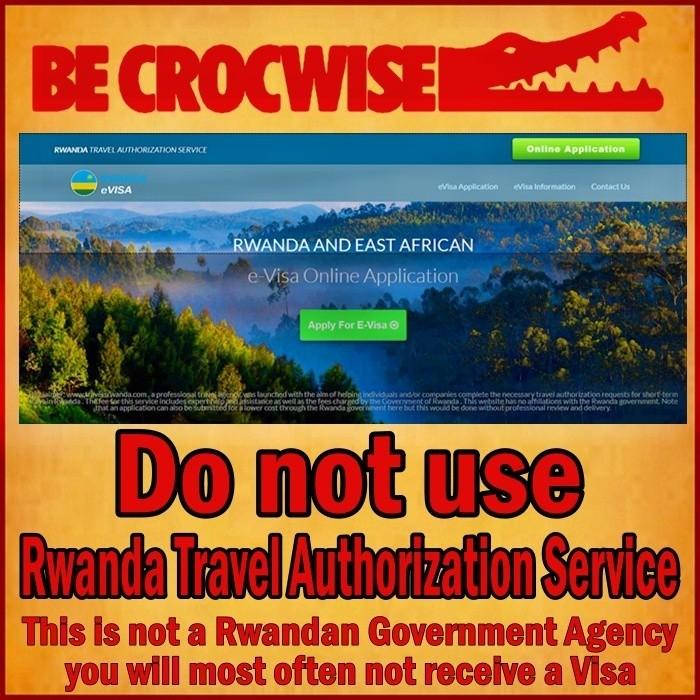 Get your Visa on arrival where possible- Embassies, or official Country Immigration Services – but not imitation sites that take your money and you lost your money and have no visa.
Rwanda Travel Authorization Service is not based in Rwanda but operates out of Spain. 
They also have a Uganda Travel Authorization Site.  We have been asked to link this page and others to their page, which we refused even though we were offered pay for click-throughs.
Our Experience is this, one of our Clients lost their money and received no Visa.
TripAdvisor also has a complaint posted against the Service and calls them a Scam.
Though most 3rd Party Advisors are legitimate, we see no need for one for Tourists to East Africa.
---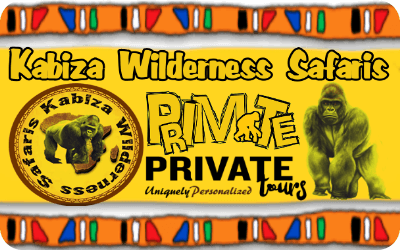 When and Where do I get my Tourist Visa for Rwanda- Our Advice to our Clients:
We use Kigali International Airport as the logical airport for Southwest Uganda with easy access to Mgahinga Gorilla Park and Bwindi Impenetrable Forest.  We have done so for years.  Many of our clients choose to fly out of Entebbe international Airport at the end of the safari.  For others, we reverse flying into Uganda and flying out of Rwanda.  Visas can easily be obtained on arrival in both countries making the Safari nearly hassle free
Having an online visa application does not expedite your arrival at Kigali International Airport, but it might give you more peace of mind.  You also have the option of obtaining a visa from the Rwandan embassy or consulate in your country. Enjoy the Safari, the Journey.
---