Visit the Home of Rosamond Carr – Imbabazi Center for Hope near Gisenyi – Lake Kivu
Roz Karr loved Rwanda and its People – especially the Children
---
Rosamond Carr  or Roz lives on in Rwanda through the Imbabazi Center of Hope. You can visit the Home of Rosamond Carr – Imbabazi Center for Hope which reflects her love for Rwanda and its children.  She lived in Rwanda longer than any other Westerner.  She was a successful businesswoman with her flower farm growing them for them top-flight hotels near and far in Rwanda – a friend and confidant of the Gorilla Researcher Dian Fossey – Roz Carr – a woman that loved Africa – her beloved "Land of a Thousand Hills" – Rwanda.

---
Rosamond Carr – 28 August 1912 – 29 September 2006. Roz as she was known by most here represents more than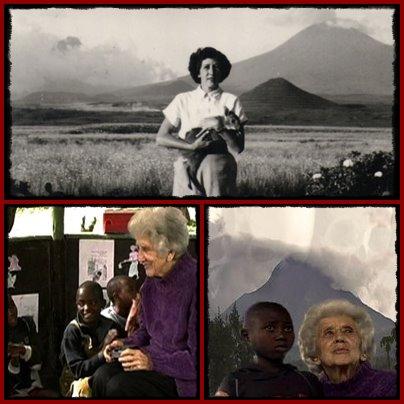 a birth-date and date of death, Rosamond Carr represents the life of a giver, she was not one who took, she gave in life leaving her mark behind, that of an open heart and open hand.
Born in South Orange in the State of New Jersey, after a brief career as a Fashion Designer she married the dashing explorer and film maker Kenneth Carr and they settled in what was known as the Belgian Congo in 1949.  The soon divorced but Roz Carr had fallen in love with Africa and she managed a Pyrethrum Flower Farm (Pyrethrum produces organic insecticide) in Mugongo Rwanda that later became her flower plantation set in the Volcanic Paradise of Rwanda near the scenic Lake Kivu.
Her life was interesting in Rwanda in those days, she became close friends with the Gorilla Researcher Dian Fossey who worked in the nearby what is today Volcanic National Park Region.  Excitement was ever-present in her Rwandan life, the home was stalked by leopards, there were the invading elephants, the monkeys, birds that were all her life here.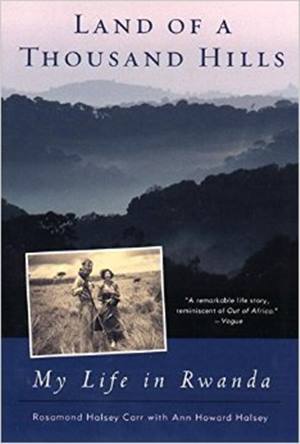 Life was normal for Rosamond "Roz" Carr until the winds of hatred, violence and death swept across Rwanda including where she lived.  Unlike other Westerners she did not flee but remained at her home even when the murderous INTERHAME squads came  and killings even took place on her beloved flower farm.
In her 199 Biography "Land of a Thousand Hills:  My Life in Rwanda" she wrote when the panga (machete) wielding INTERHAMWE mob came looking for more Tutsi and she responded in an angry voice "If you want to kill someone, Here I am – Kill me!"
Soon afterwards in 1994 she was evacuated by UN Soldiers and returned to the USA.  She soon returned as the Genocide had ended with a million victims that no longer graced he Land of a Thousand Hills. While parts of Rwanda were still unsafe she founded the Imbabazi Orphanage – which means "a place where you will receive all the love and care a mother would give."
She wrote her Autobiography in 1999, poured her life into the flower farm, the orphanage but mostly the children,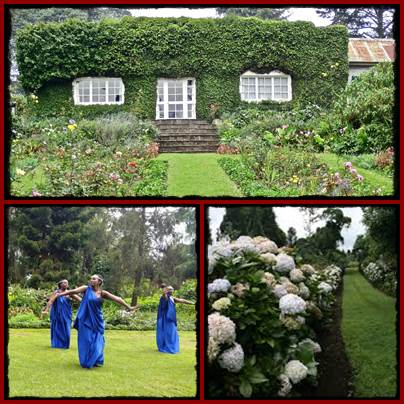 many of them victims of the Genocide.  One of her pleasures was sitting in front of her fireplace in her home in the evening listening to a crackling fire, for the most part of her time in Rwanda there was no electricity something she found part of the charm of living here.
She died of pneumonia at her beloved home in 2006 and much of Rwanda mourned the longest living Westerner in Rwanda and where she buried near her home.
Rosamond Carr has gone on, her Imbabazi has become a center of Hope for Rwandan children and parents in the Area.  Her home remains as it once was.
You can Visit the Home of Rosamond Carr – Imbabazi Center for Hope near Lake Kivu and hear about her life, the story of Imbabazi and the children and see the work today that assists children and the local communities through farming, hog and chicken rearing, cows for milk, fresh produce which might even grace the luncheon table as you visit here.
To Visit the Home of Rosamond Carr – Imbabazi Center for Hope is more than one of the Things to do and see near Lake Kivu in Western Rwanda.  A visit to Imbabazi is an experience of the difference that givers in life such as Rosamund Carr make and how that same giving spirit is alive today and the giving continues.
We can incorporate a time at Rosamond Carr's Home and hear and see the Imbabazi Story on a guided tour, it can be with lunch, cultural dancing, or the bigger Sunday activity.  People who come to visit here, leave delighted having witnessed the life and work that is continuing of Roz Carr.
---
Visit the Home of Rosamond Carr – Imbabazi Center for Hope – if you are interested in a visit – please contact us and we will incorporate it into your safari.


---