TheCurrent Uganda Wildlife Authority Tariffs and Activity Fees
The current Uganda Wildlife Authority Tariffs-Activity Fees 2018 – June 30, 2020
---
These are the current Uganda Wildlife Authority Tariffs – Activity Fees for January 2018 to June 2020

The Uganda Wildlife Authority Tariffs for 2018 and 2019 remain largely unchanged – the exception being that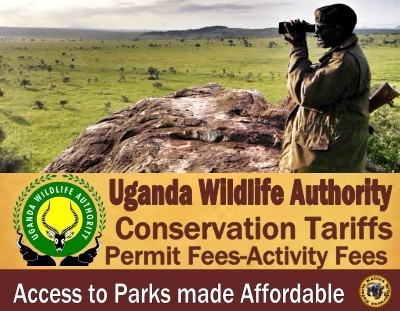 Promotional or Discounted Gorilla Permits ended in November of 2017.
The Gorilla Habituation Experience is now listed where it was not before.  Lion Tracking Research is now 50 USD and not 150 USD – there is a 10 USD local Community Fee.  The Chimpanzee Habituation Permit cost is now 200 USD and Discounted Chimpanzee Permits are discontinued.
Uganda Wildlife Authority should be commended for keeping the 2017-2018 tariffs affordable with no increases besides the promotional Gorilla permits as mentioned above. This means that there are no major increases in activity costs since 2014 – that is remarkable and unlike other East African Safari Destinations – keeping the Pearl of Africa affordable and visitors…Enjoy- At this time the Tariffs below will stay in effect until  June 30, 2020.
---
Uganda Wildlife Authority Tariffs change effective July 1, 2020: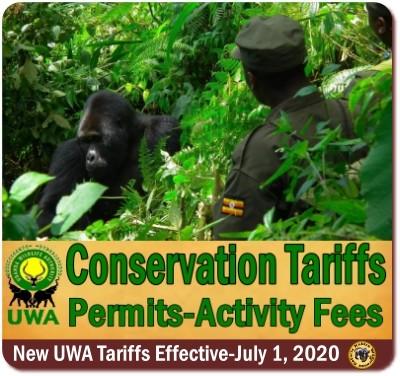 UWA Tariffs will slightly change effective July 1, 2020. Gorilla Permits will increase by $100 to $700. Chimpanzee Permits in Kibale Forest will increase by $50. There is a change as to when increases become effective. 
Most fees remain the same making Uganda a most affordable Safari Destination.
Uganda, unlike Rwanda, will remain the most affordable Safari Destination.
The tariffs that you pay make possible the conservation efforts, and community development. Without conservation tariffs, the number of gorillas would be increasing at the present rates.
Where there are increases they remain sensible.
---
Uganda Wildlife Authority Tariffs – Activity Fees – updated by UWA – January 2018
---
[pdf-embedder url="https://kabiza.com/wp-content/uploads/2017/01/uwa-January-2018-2019-Tariffs-janary-10.pdf"]
---