How the March 2019 Temporary Rwanda-Uganda Border Closure affects Tourists
Uganda – Rwanda Border Closure hurts the Tourism Image of both Countries
---
The Uganda – Rwanda Border Closure – The Impact on Tourism. The March 2019 Closure of the Rwandan –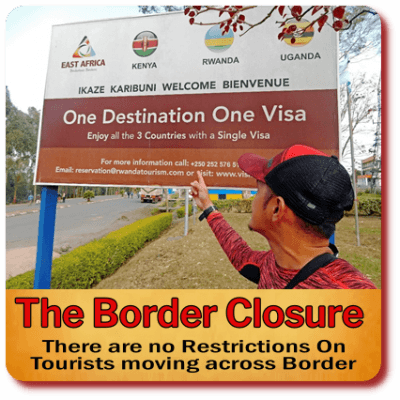 Ugandan Border damages the image of both countries. It is counterproductive to both countries proclaiming themselves as a safe, secure, and stable Destination for African Travelers, Tourists on Safari, and Visitors to both Countries.
We are not politicians but Tour Operators that have freely crossed the border between Uganda and Rwanda shuttling Tourists on Safari with us to destinations on both sides of the border. We are not one of those that is pointing the finger but are asking for a timely resolution of the Differences that Uganda and Rwanda have with each other. 
Though Tourists have not been directly affected by the border closure, we find news of the border closure between Rwanda and Uganda as being detrimental to the aim of both countries. Two countries where Tourism is the Bread and Butter of both countries' Economies, which in turn employs thousands in meaningful jobs in both countries.
When a potential Visitor to Uganda or Rwanda reads such news in their country, they take Rwanda and Uganda are off of their Bucket List and file it under future travel possibilities. France
Safety and Security in Rwanda and Uganda are of concern to Tourists.  We know that judging by how many visitors to our Website Kabiza.com view pages such as "Are Americans or anyone safe in Uganda or Rwanda."  Though they are safe, it is a matter of image, of perception, or interpretation, of painting all of Africa with one brush, unstable, which is contrary to the reality in both Uganda and Rwanda.
---
The Uganda – Rwanda Border Closure comes at a time when potential visitors to both or either country are making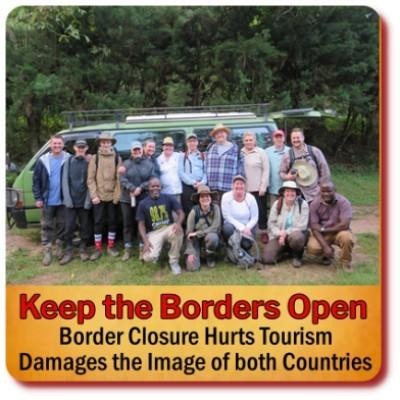 their travel plans, booking a safari with a tour company such as ourselves.  News of the border between the two countries will only defer such schemes to the distant future.
Tour Operators from both Rwanda and Uganda daily cross the border and head for Tourist Destinations in both countries. The Uganda – Rwanda Border Closure sends a message that such movements are not possible, something that is not true, but Tourism is all about image and perception. It is an image as welcoming nations and Tourist-Friendly Countries that have been hurt the most.
The Uganda – Rwanda Border Closure is counterproductive to the promotional Tourism plans of both countries no matter if the  Arsenal Football Team has Visit Rwanda on its shirt or Kim Kardashian and Kanye West gush about how wonderful Uganda.  All those things, including Ellen Degeneres stating on her American Talkshow as to how beautiful Rwanda is to visit.  All it takes is one picture of a closed border in the international media and travel plans to the heart of Africa, Uganda or Rwanda dissipate into nothingness.
Presently, the Uganda – Rwanda Border Closure hurts Commerce, including Tourism.  Rwanda has advised its citizens not to visit Uganda at present, suggesting that Uganda is dangerous for visitors.  Tourists in 2019 are welcomed daily to a safe, stable, and secure Uganda.
A Tour Guide reports that there was no problem crossing two different border points except that the mood of Border Staff was somber. Tourism Vehicles are marked as such and receive extra care.
---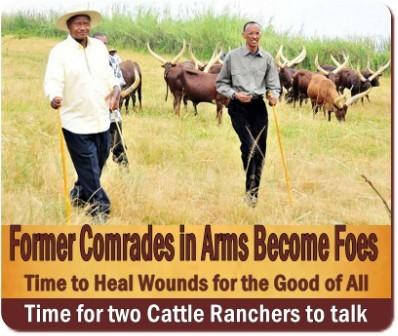 Uganda – Rwanda Border Closure – We are Tour Operators, not politicians, but we do know the impact that the Border closure has and can have on both Countries.  We know that their talks and discussions at the highest levels about the Border closure; however, one might suggest resolving the issue at hand on time without delay.
President Kagame of Rwanda and President Museveni of Uganda are both men of faith, may the words of Isaiah 1:18 "Come now, and let us reason together" become a reality as the two cattle ranchers sit down on one of their cattle ranches, once again enjoy some homemade Yogurt and discuss what the two countries have in common and deal with the differences that are causing the present Border Row.
It is not a time for provocation, which only leads to isolation but for open communication between the two countries for the common good of both countries and the East African Union to which they both belong.
---
When Elephants Fight, the Grass Gets Trampled – African Proverb.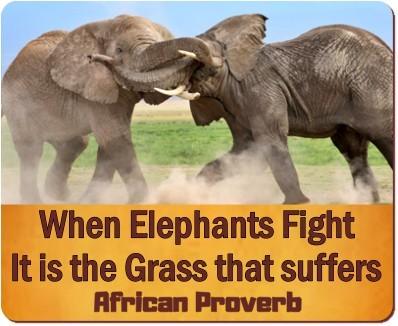 Uganda and Rwanda have a history between them. Most of the time, it has been one of mutual support with temporary downturns in the relationship.  Many commentators see it about pride and ego between two leaders, President Museveni of Uganda and President Kagame of Rwanda.
Once again, we are not Political Analysts, but Tour Operators that have used Kigali International Airport as the logical airport is one is tracking Gorillas in Southwest Uganda's Bwindi Impenetrable Forest or Mgahinga Gorilla Park. We appreciate that our vehicles have been allowed to move between the two countries freely. We are concerned about the damage that is being done to the Tourism image of both countries.
When Elephants fight, it is the Grass that gets trampled – the Grass being those affected by the choices made upon high by leaders in both countries.
August 22, 2019: Though an accord has been signed in Angola by both President Kagame of Rwanda and President Museveni of Uganda. The Goebbel Style Nationalistic rhetoric keeps pouring in. In Uganda, it is not the leading newspapers caught up in the counterproductive propaganda but some online opinion papers. In Rwanda, the New Rwanda Times has kept pushing the rhetorical envelope. I, as an outsider (American), find it counterproductive and not agreeable in the light of the agreement signed. Yes, the relationship between the two countries will normalize, but the deep wounds will take a long time to heal.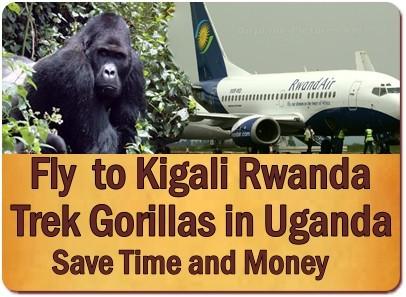 We do know a bit about Tourism:  Both Rwanda and Uganda are dependent on Tourism Dollars.  They are most important to both countries.  "We also know that you cannot have your cake and eat it too."  The border closure, the border remarks, the at times saber-
rattling comments made on both sides of the border are counterproductive to what the Rwanda Development Board and the Uganda Tourism Board are attempting to achieve, which is more tourists visiting their respective countries.
The newspaper articles, commentaries are counterproductive when it comes to Tourism.  Rwanda has been the darling of the Travel Community, Uganda has gotten attention because of affordability and the number of Gorilla Permits.
While we are not suggesting Peace at any price – we are proposing a fresh look at the whole picture and potential losses to both countries. I write not as a Ugandan, nor as a Rwandan, but as an American who has had strong ties to both countries.  The Wrongful Travel Advisories that were issued by nations like France against Rwanda are only the tip of the iceberg of what is to come unless the border and underlying issues and grievances on both sides are solved.
Most Tourists are not interested in family disputes between nations. They come for the Mountain Gorillas, Chimpanzees, and Wildlife. They will not happen if there is any level of perceived danger – perceptions shaped by news reports, travel Advisories that are not the reality that Tourists find visiting Rwanda and Uganda.
---
Please Note-COVID-19 Conditions: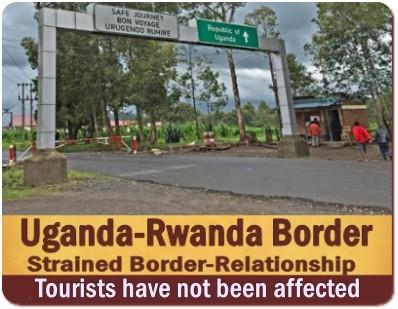 The fly into option and track Gorilla in Uganda Option can only be offered if and if Rwanda opens International Tourism without quarantines and the Border between Rwanda an Uganda can be crossed without any hindrances to tourists aside from social distancing, masks, and sanitizer in the Safari Vehicle.
Rwanda and Uganda have had a border-crossing dispute. It took place before the COVID-19 lockdown, and hopefully, such a cordial relationship in regards to International will continue in the future.
The Alternative is that your Safari begins and ends in Entebbe, Uganda.  Other park visits in Uganda can be included to shorten drive-times, or you can take the popular Fly-In Safari Options that we offer.
---