The Top Things to Experience when visiting Remarkable Rwanda
The Top 10 Things one must Experience in Rwanda – Land of a Thousand Hills
---
 Here are the "The Top 10 Things one must Experience in Rwanda". When you visit a country, what you take home with you are the experiences you had in that country. Most come to Rwanda to experience the Mountain Gorillas up close in Volcanoes National Park.
Rwanda, however, has many more things to see and do – we call them  The Top 10 Things one must Experience in Rwanda. Some will probably be off of your radar,nevertheless you will enjoy them if you give them a try and we can even find a few more things for you to experience.

---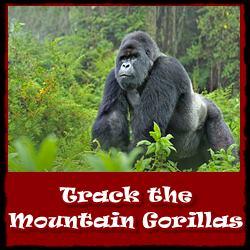 1. Gorilla Trekking Volcanoes National Park:
Track the Mountain Gorillas – the experience of a lifetime and the 1 reason most visitors journey to Rwanda – Land of a Thousand Hills.  There is nothing like it – that one hour with the Mountain Gorillas in the shadow of the Virunga Volcanoes is simply the most amazing experience and well worth the effort involved.
There is simply something magical and wonderful of an encounter with the Gentle Giants of the Virunga Volcanoes – the Mountain Gorillas of Rwanda.
In the tradition of Dian Fossey, we can create your own Gorillas in the Mist Experience in the Foothills of the Virunga Volcanoes with your own personal encounter with the Mountain Gorillas.  It will be not only the top thing to do in Rwanda, for most it will be the top thing they have done in all of Africa. An experience never to be forgotten.
Rwanda Gorilla Permits are now 1500 USD 
---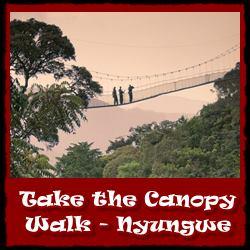 2. Take the Canopy Walk in Nyungwe Forest National Park:
Imagine being 40 to 50 meters above the forest floor, looking into the canopy of the forest and now it is at eye level and you can see primates, birds, butterflies in a way that you would not have seen before.
An amazing experience and this is the only canopy walk in East Africa, a one of a kind experience that is most unusual and it takes place in the largest Montane Forest in East Africa which is one of Rwanda's national treasures.
Nyungwe Forest canopy walk, an amazing walk that is not for those who are afraid of heights and a swaying suspended bridge, for most it is however one of those special experiences that Rwanda has to offer tourists that flock to Rwanda to see the Mountain Gorillas and find out that there is a lot more like the Canopy Walk in Nyungwe Forest National Park.
---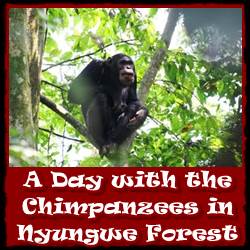 3. Spend a day with those lovable Chimpanzees in Nyungwe Forest:
You can hear them before you see them, those lovable and most interesting chimpanzees found in Nyungwe Forest.  Chimpanzee Trekking, one of the top things to do in the Land of a Thousand Hills Rwanda.
This is one of the must things to do while visiting Rwanda.  It is not a long drive from Volcanoes National Park to Nyungwe Forest and here you can track Chimpanzees which will take well over half a day to do but is a most enjoyable and memorable experience in Rwanda.
You can tack on a few days and add the canopy walk, and track other primates such as the Ruwenzori Colobus Monkey that move in large numbers (up to 400)  and the Gray-Cheeked Mangabey Monkeys.  There are 13 species of primates found in Nyungwe Forest National Park and at least three of them you can track while here.
---
4. Spend time with the Golden Monkeys in Volcanoes National Park:
Tracking the Endangered Golden Monkeys is a great activity while at Volcanoes National Park in Rwanda.
You are already here, tracking Mountain Gorillas, simply allow for a morning to track the endangered Golden Monkeys that are only found in the Virunga Volcanoes and here in Volcanoes National Park is a golden opportunity to track the Golden Monkeys.
This is a most enjoyable half day, and it is not too strenuous like Gorilla Tracking, the golden monkeys are usually found in the Bamboo Forests of the Volcanoes.
Golden Monkeys are more beautiful primates and are quite playful as they flit around in the bamboo forest.
---
5. Visit the Kigali – Gisozi Genocide Memorial:
Rwanda is one of Africa's most beautiful countries, it is also a country where one of the continent's most horrific events took place, the Genocide against the Tutsi People.  In 100 days one million people were slaughtered.
The Kigali – Gisozi Genocide Memorial is one of Uganda's sacred places, here 250,000 Victims of the Genocide are interned including a children's section.
It is a moving memorial, a reminder of Rwanda's commitment to "never again." Most everyone that you meet in Rwanda was affected by the Genocide in one way or another.
Here at this Memorial Center, you can see and in a sense get a glimpse into what took place in those 100 days in the Spring of 1994 – The Kigali Genocide Memorial – a must visit.
---
6.  A Visit to the Iby'Iwacu Cultural Village:
The Iby'iwacu Cultural Village is the most visited cultural village in Rwanda.  An interactive cultural visit here is most interesting enlightening.  Many of those who you will meet were poachers and now are making a living for themselves and their families from cultural tourism.
Here you will find Rwandan cultural traditions including a replica of the traditional house of the local King, learn about traditional medicine from a traditional healer, learn how to handle a bow and arrow, learn about food preparation including sorghum flour making, banana beer making.
Enjoy the traditional Intore Dancing performing accompanied by traditional drumming performed by local people.
You can also stay overnight here in a traditional hut with a bit more comfort. A visit to Iby"Iwacu is a must to do as you  are visiting Volcanoes National Park.
---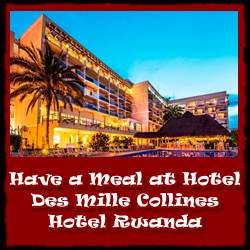 7.  Have a meal at Hotel Rwanda – Hotel des Mille Collines:
Most everyone has seen the movie Hotel Rwanda – and one of the things you can have is a meal and drink at the real Hotel Rwanda – Hotel Des Mille Colllines.  It is amazing how many people have their picture at the entrance by the Hotel sign, well it is more enjoyable to have a meal within.
Paul Rusesabagina – the hero of the movie Hotel Rwanda in Rwanda does not have the status he enjoys in the West due to the Hollywood Blockbuster Movie. For Balance it would be good to read the story of a survivor who survived the Genocide at the Hotel – Edouard Kayihura "Inside the Hotel Rwanda, The surprising true story …And Why it Matters."
The Hotel during the Genocide was a place of refuge, today the Hotel des Mille Collines is a place where people stay visiting Kigali including people with us on Safari, many come here to have a meal and or drink, some to visit Hotel Rwanda.
---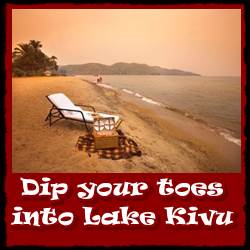 8. Dip your toes into Lake Kivu:
Lake Kivu is Rwanda's best place to relax and chill out after gorilla tracking, after being on safari in Rwanda.  Lake Kivu is bilharzia free and not only can you dip your toes here, you can swim in it, there are no hippos nor crocodiles found here.
After dipping your toes – have some of the local favorite delicacies – the most noted one is Sambaza a small sardine that is a delicacy here along Lake Kivu.  Most often Sambazas are deep fried and are eaten with toothpicks as a snack, fries on the side and at times a salad.
Of course one needs a liter bottle of the beer that made Lake Kivu famous – Primus – that is made along the lake.
Lake Kivu – one of the must things to do is to dip your toes into it and enjoy and the best place in Rwanda to relax and chill out.
---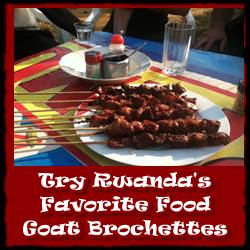 9,  Try Rwanda's National Dish – Goat Brochettes:
Try eating one of Rwanda's favorite Dish – Goat Brochettes.  If you do not like Goat, try a Beef Brochette, in restaurants you can even get a chicken one.
Every bar, pub, restaurant, has some version of Brochette, some even come with some vegetables.  At times you might hear them referred to as Kebabs, however, most will call them Brochettes and you have not eaten in Rwanda until you have tried some Goat Brochettes.
Primus or Mützig beer goes well with goat Brochettes and if you are ordering Rwanda's favorite dish in a bar you will most likely wait 45 minutes or longer and need a couple of Rwanda's favorite brews which is made by the Bralirwa Brewery (owned by Heineken) along Lake Kivu.
Having a goat brochette – is certainly one of the tastiest things to do while visiting Rwanda.
---
10. Enjoy the sunrise with one of the World's best Coffees – from Rwanda:
The founder of Kigali Richard Kandt distributed many coffee plants all over Rwanda and one can be sure that others followed.  Today some of the world's best Arabica Coffees come from the Land of a Thousand Hills – Rwanda.
If you have not had a Rwandan Coffee – you are here – the sun rises before six, get a cup of the finest Arabica Coffee and sit outside up in the Virungas, along Lake Kivu, on the savannah of Akagera National Park and drink one of the best things it has to offer – its coffee.
If you do not like coffee  – there is enough tea grown here and it does not have the tannins and it is a smooth tea.
The coffee found here is sold in places from Europe to Asia with North America in between, but there is nothing like having a cup of Rwandan Coffee in Rwanda while watching the sun rise.
---
Rwanda there are many more things to do and see in the Land of a Thousand Hills and a Million Smiles.  The Top 10 Things one must Experience in Rwanda are just a few things – there are many more, experiences that most visitors to Rwanda miss unless they are on a Safari with a tour operator such as ourselves who will make you aware of all the possibilities you can experience while visiting here such a day-long visit to Azizi Life where you spend a day in rural Rwanda learning Rwandan ways of living.

---
The Top 10 Things one must Experience in Rwanda – If you like to include any them in your safari with us, please let us know.


---

---