The Lion population is under severe threat in Queen Elizabeth Park.
Another example of poachers robbing future generations of what Nature has gifted Uganda with
The March 2021 Lion Massacre in Queen Elizabeth Park is a significant setback for Conservation Efforts and Tourism. 
---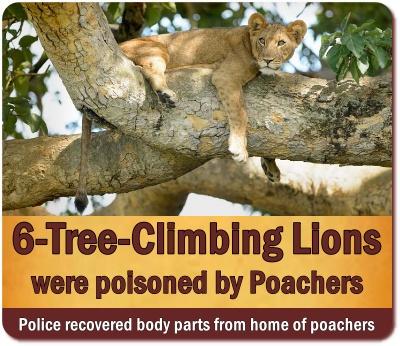 The March 2021 Lion Massacre in Queen Elizabeth Park is a call for action. Once upon a time, Lions were readily seen in Queen Elizabeth National Park, but now there are not. Look to where the fig trees are; that is where the tree-climbing lions could be seen, but now they are gone. That is what the future holds unless the present Lion killing sprees are stopped. Uganda will become like other African countries where lions are only included in stories of its past. However, the roar of lions in the wild has faded into its distant past.
The gruesome killing of six lions in Queen Elizabeth on March 19, 2021, was a death knell to the country's wildlife conservation efforts and domestic and international tourism.
News agencies worldwide have already spread the news worldwide. It gives the potential tourist a big reason to stay away from Uganda if lions want to see.
It appears that the six tree-climbing lions were poisoned since dead vultures were found near the remaining lion carcasses.
Four Lion Killer suspects were arrested on March 23, 2020. They were traced to Kyenyabutongo village located in Kihihi Sub-County, near the Ishasha region of Queen Elizabeth Park lions were poisoned.
A joint security team recovered body parts of the dead lions. Two of the lion heads were hung on a mango tree while the rest of the body parts were buried.
While one salutes the security forces' efforts arresting the alleged Lion Killers, the reality is this, six lions were unnecessarily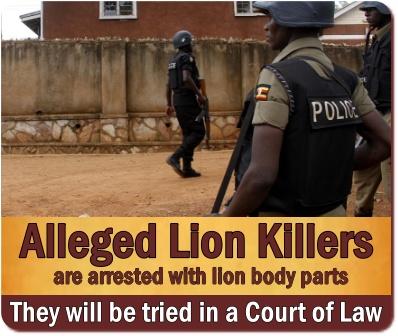 killed by fools for whom the Uganda Wildlife Authority's motto, "Conserving for Future Generations," was and is meaningless. The alleged were criminals not thinking of the future, not thinking of others, but caught up in their world of need and greed.
One hopes that they will be given a punishment befitting the dastardly crime that they committed. One hopes that the poachers will wind up in a Ugandan court of law where the presiding judge understands the irreplaceable impact caused by this criminal act. The case needs a judge who understands the harm done to wildlife conservation and the income-producing Tourism Industry. A judge who will enforce the new wildlife protection laws to the letter and not let the guilty off with what often has been a meaningless slap of the wrist. The judicial system must make a noteworthy example. Otherwise, the senseless killing of lions will continue.
The March 2021 Lion Massacre in Queen Elizabeth Park calls for immediate review with follow-up measures to this now once-a-year lion massacre in Queen Elizabeth National Park. Even to the uninitiated, it is now evident that the current efforts have not been enough to protect the precious lions in Queen Elizabeth Park. That the "living among lions" community education efforts have not been enough.
The lion massacre is a wake-up call for Ugandans. The lion population of Queen Elizabeth Park is under threat. The ongoing killings of lions will place the park in a similar position as Lake Mburo National Park. There the roar of a lone remaining lion can be heard now and then. That must be prevented at all costs.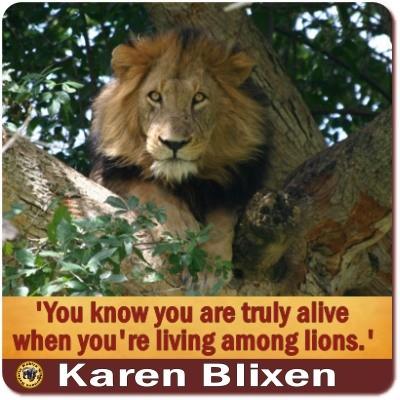 There is no time for endless dead-end studies. It is time to speak with one voice at all government levels regarding the harm that poaching's to the country. It is time to act with force by saving the lions flying squads patrolling squads. It is time to implement preventative measures from drones to exposing poachers before they can do more harm.
Like other African countries, Uganda must deal with an increasing population moving ever closer to national parks, creating human-wildlife conflicts, including with carnivores.
The March 2021 Lion Massacre in Queen Elizabeth Park brings Uganda is to a crossroad. It is now forced to decide as to what to do. It is crunch time whether to be just a primate destination or continue to be a Big-7 destination with lions, elephants, rhinos, leopards, buffaloes, plus Gorillas, and chimpanzees.
Do we want tour guides and ranger to tell domestic and international tourists "over there in those trees, there used to be the tree-climbing lions?  Some have said, "there are more lions in the park." If the killing of lions continues, one must ask, "for how much longer?"
Most Ugandans claim to be a people of faith. God has gifted Ugandans one of the most beautiful wildlife and primate-rich countries in Africa what God has entrusted Ugandans as stewards of all that is Uganda, including the endangered lions.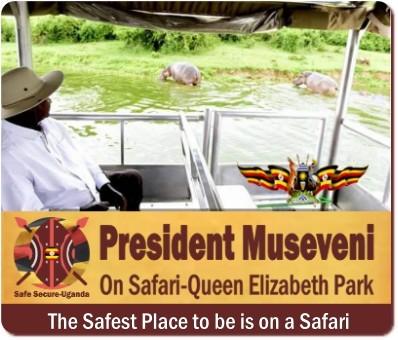 Ironically in celebration of World Wildlife Day, his Excellency President Museveni, a few weeks before the Killings of the lions, stated, "as you may know, Uganda is gifted by nature with exceptional wildlife diversity. This diverse wildlife endowment gives us a competitive edge to develop Uganda into a top tourism destination in Africa and globally. We remain fully committed to addressing these challenges. We also need to strengthen the idea of having communities at the forefront of conservation." 
It is time for Uganda's motto to ring true "for God and my country." Conservation for Future Generations is the call of the hour to prevent another March 2021 Lion Massacre in Queen Elizabeth Park.  These criminal poachers have caused damages that amount to millions in lost income to Uganda. Revenue could have further stimulated successful conservation efforts as with the Mountain Gorillas, the Nubian-Rothschild Giraffes, the Rhinos, and the ostriches found in Kidepo Valley Park. The time to act is now and not tomorrow.
[starbox]