Sabyinyo Silverback Lodge – Volcanoes National Park – Exclusive Up-Market Lodge – with a view to live for
Sabyinyo Silverback Lodge – a stay here is simply a heavenly experience
---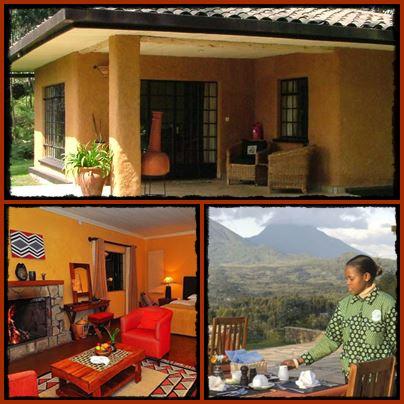 Gorilla Tracking is the experience of a lifetime – a stay at the exclusive Sabyinyo Silverback Lodge – Volcanoes National Park is the perfect place to stay to make your gorilla safari at Volcanoes National Park in Rwanda even more memorable. It ranks among the best Lodges in East Africa.  Once that you stay here you will know why.

Sabyinyo Silverback Lodge – Volcanoes National Park was built and is operated by the famed lodge operators Governors' Camp.  The lodge is owned by a community trust called SACOLA which assist the local communities with socio-economic and conservation initiatives which makes your stay here even more worthwhile.
The exclusive lodge has five cottages, two suites and a family cottage – it is recognized as one of Rwanda's top lodges and certainly a lodge with one of the best views in Rwanda.
The rooms all come with their own private verandas, full bathrooms, sitting rooms with fireplaces to take the chill off of the cool Virunga Volcano nights
The cottages are made of local stone and the roofs are tiled all blending with the Rwandan motive all around including the rugged and most scenic landscape that is so much Volcanoes National Park.
The dining room and the bar offer great views of the surrounding area including the Volcanoes with great sunrises and sunsets that are simply magnificent and breathtaking.
Besides gorilla tracking there is much more to do and see which includes activities offered by the lodge including walks and hikes guided by members of the local community.
Sabyino Silverback Lodge is simple an experience that will only compliment your gorilla trek here – the reviews that you will find on TripAdvisor are simply complimentary…enjoy your stay.
---
Sabyinyo Silverback Lodge – Volcanoes National Park- If you like to use this lodge on a safari with us – please – let us know.


---