Poachers Kill Rafiki – Lead Silverback of the Nkuringo Gorilla Family
Bwindi Impenetrable Forest – Poachers kill the well known Rafiki Gorilla Silverback Gorilla
---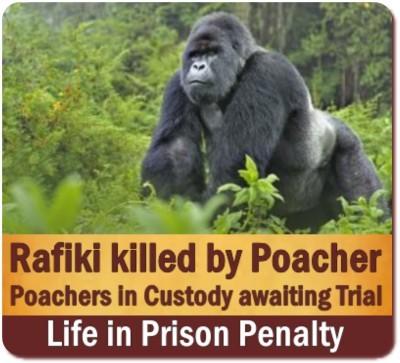 Wildlife Poachers kill the famous Rafiki Gorilla Silverback Gorilla – The Nkuringo Gorilla Family in the southern area of Bwindi Impenetrable Forest has lost its lead and only Silverback to poachers. On June 1, 2020. All those who have visited the Nkuringo Gorilla Family in Nkuringo and thousands of others share their grief. Major new agencies far and wide are reporting on this tragic incident.
Four poachers invaded the park illegally in search of Bushmeat. They came upon the Nkuringo Family and Rafiki, the Silverback charged them. The 25-year-old Gentle Giant was speared to death in his abdomen by Felix Byamukama with a spear. Rafiki succumbed from the wounds inflicted upon him.
The Police have since arrested four poachers who include, Felix Byamukama, Valence Museveni, Yonas Mubangisi and Bampabenda Everest. They are in Police Custody in the town of Kisoro on the border of Rwanda and DR Congo.
Felix Byamukama was arrested at his home where the Police found bush pig meat, several hunting devices including a spear, rope snares, and a dog hunting bell. He confessed to the killing of Rafiki and claimed it was in self-defense as Rafiki was charging him.
The death of the lead silverback will result in the now leaderless Nkungo Family. A new leader may appear, or the present group will attach itself to other families.
The Suspected Poachers in Custody face the possibility of a life sentence or a fine of 5.4 million dollars.
The Covid-19 pandemic has made life hard for those living around Bwindi Impenetrable Forest. There are no tourists, domestic or international, and poaching is one of the only ways to stay alive. 
It is and has been illegal. Poachers are harshly dealt with as of late. A gorilla family leader has been killed, and the family faces an uncertain future.
Poachers kill the famous Rafiki Gorilla Silverback Gorilla; The loss of tourism dollars due to the death of this Silverback is in the millions over the years. Conservation dollars have been lost due to the senseless murder of Rafiki. Crouching down by the poacher would have saved the life of Rafiki. Spearing him to death to death was senseless. The poacher deserves the maximum penalties. May it be an example to other poachers.
[starbox]