Nkuringo Bwindi Gorilla Lodge in scenic Nkuringo – Moderate –Up-Market Lodging
Nkuringo Bwindi Gorilla Camp in scenic Nkuringo
---
Nkuringo Bwindi Gorilla Lodge in scenic Nkuringo, it is all about location and the lodge is located in one of the most
scenic spots in the southern area of Bwindi Impenetrable Forest – probably the most stunning area of the ancient forest  with views to live for.  The Volcanoes of the Virunga Chain are before you including the two active ones in the Democratic Republic of Congo – Both Mount Nyiragongo and Mount Nyimuragira continue to light up the night sky on clear evenings in the distance and can be seen from Nkuringo Bwindi Gorilla Lodge.
Nkuringo Bwindi Gorilla Lodge is at 2161 meters above sea level and it can get a bit chilly here at nights-it is located on a ridge overlooking the ancient Bwindi Impenetrable Forest National Park – home to half of the remaining Mountain Gorillas in the world.  In the mornings you might often see Bwindi Impenetrable Forest enveloped in mist and clouds – later in the day you will see the fabulous views of the volcanoes and the Western Rift Albertine Escarpment – the views extend as far as the Rwenzori Mountains of the Moon from here.  Nkuringo Bwindi Gorilla Lodge is simply about location – views and a great starting point to the track the Mountain Gorillas, or take a hiking safari through the park to the Buhoma area.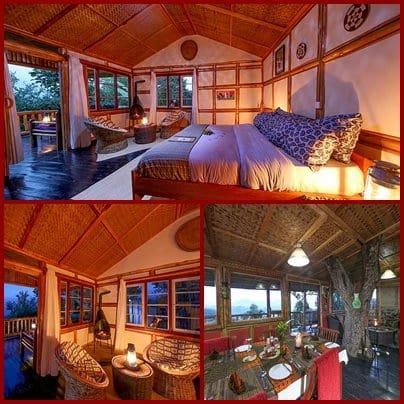 Nkuringo Bwindi Gorilla Lodge offers a variety of lodging choices including upmarket cottages with stunning views of the surrounding area – there are the terrace Rooms with private bath, and tents for lazy camping with shared bath, there is also the family room that sleeps 5.
The camp is located on a ridge and water has to be brought in during the dry seasons – during the rainy seasons water is collected Nkuringo Bwindi Gorilla Lodge in scenic Nkuringo provides excellent food – most of which is purchased locally and benefits local farmers and the trained staff provide tasty dishes and sumptuous meal for visitors to the Lodge.
Besides Gorilla Tracking you can take a guided village walk which includes a hike up to the top of the world with views into the Democratic Republic of the Congo and the active volcanoes there.
The lodge uses Low voltage electric lighting and paraffin lanterns provide night-light in the gorilla lodge, the main lodge has solar power it uses.
Practical advice: charge your batteries on the way here in the vehicle, one can charge batteries for one hour in the evening since in cottages there is low voltage power and in the Terrace rooms paraffin lamps light the rooms.  Water is at a premium here, rain-water is collected, but also water is trucked in, this is due to the fact that the soil is volcanic and porous and throughout this region including the town of Kisoro water is used sparingly.  However, the views from here make up for the small sacrifice you have to make.
---
If you like to stay at Nkuringo Bwindi Gorilla Lodge in scenic Nkuringo during your safari with us, please us know.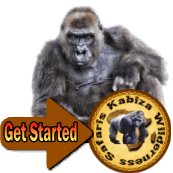 ---