Kigali Memorial Center Where Rwandans Face the Horrors of the Past and move to a Hope-Filled Future
The Gisozi Genocide Memorial Center – Kigali – A Sacred Place – a place of Resolve to say"Never Again"
---
Gisozi Genocide Memorial Center – Kigali is the final resting place for over 250,000 men,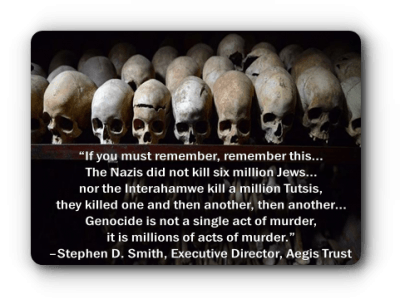 women, and children who became victims of the 1994 Genocide against the Tutsi.  People come here to learn, resolve to heal and to move beyond such horrible incidents as the 100 days in 1994 when a million people in Rwanda lost their lives to senseless tribalism and hatred that turned into deathly violence while the world stood still in silence.
Today most visitors to Rwanda come here to pay their respect at the Gisozi Genocide Memorial Center.  they learn how it happened in Rwanda – in other parts of the world – the exhibits have been tastefully assembled.

Some call this Dark Tourism, something it certainly is not, it is a place of remembrance, a time where the world stood by idly while over a Million died in 100 days.
---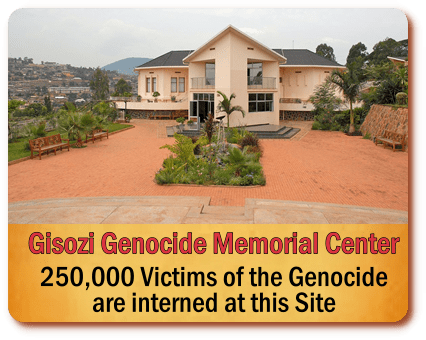 The Gisozi Genocide Memorial Center – Kigali is a reminder of how ugly and hateful men can become.  If you went to Hell in 1994 there were no devils left, they were all in Rwanda.  Today in the 21st Century it is a symbol that one can triumph over hatred,  as Rwanda has done
As you visit the Kigali Memorial Center come with an open heart and mind, dress respectfully even though you are on a holiday, this is a sacred place to most Rwandans where respect and reverence are displayed as you move through the Memorial Center.
The children's section is especially touching and moving, most do not realize how many of them were killed during that time, it was however in a most brutal of manners, cutting down the dreams and hopes of thousands of Rwandan Children.
In Rwanda, today, most that live there have a story to tell about the Genocide but in Rwandan fashion, they mostly
keep quiet and rarely talk about it except in the company of close friends or family.  The Kigali Genocide Memorial tells their story even when the survivors cannot.
In moving through the Gisozi Genocide Memorial Center you can have a guide or purchase an interactive media presentation that will guide you through the Center.
The world stood still in silence while the Hell broke loose in Rwanda in 1994 – Today Rwanda is one of the most progressive countries in Africa, moving forward, bettering the lives of Rwandans through education, healthcare, Tourism, investments that result in meaningful jobs.
Never Again – is something that you sense and feel as you visit the Gigozi Genocide Memorial Center.
---
If you would like to visit the Gisozi Genocide Memorial Center – Kigali and pay your respect while on Safari with us – please let us know.