Mountain Gorilla View Lodge – Volcanoes National Park –  Value for your Money
Simple but Comfortable – Lower Up-Market – Moderate Price
---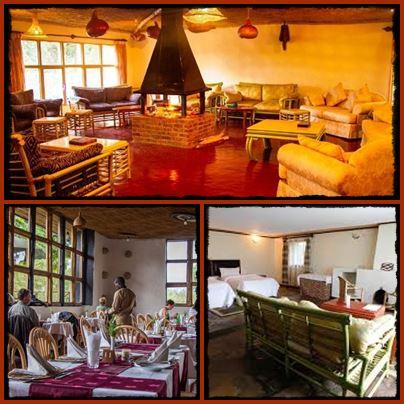 Mountain Gorilla View Lodge – Volcanoes National Park is a large loge with 30 cottages with excellent views of the Virunga Volcanoes. One of the benefits is the location – just 15 minutes from Park Headquarters which allows you to stay in bed a bit longer than you would with other lodges.
Mountain Gorilla View Lodge – Volcanoes National Park is simple but comfortable – you have your own cottage with private bathroom, a sitting area that has a fire-place for those cold Virunga Volcano nights and you are tucked into bed by being given a hot-water bottle for your feet.
The sumptuous Meals are served in buffet fashion, and all meals are cooked from scratch and there enough choices to satisfy even a vegetarian.  Arrangements for other dietary needs can be arranged for you.  Food is Rwandan and continental cuisine.
One thing to keep in mind regarding lodging in the area is the elevation and the nights do get cold.  This is one of the consistent grumblings regarding Mountain Gorilla View Lodge on TripAdvisor.
The cottages are made of stone – the floors are of stone and nights up here get cold.  The fireplace is great until you go to sleep and in the morning it is somewhat nippy. There are 5 VIP Cottages with wooden floors instead of varnished stone floors.
Odd suggestion:  If you like to stay warm at night, you might request an extra blanket, and bring some warm sleep year…yes, this is Africa but in the shadow of the Virunga Volcanoes it does get cold at night.
From Mountain Gorilla View Lodge – Volcanoes National Park Mountain Gorilla View Lodge you have easy access for Gorilla Tracking, Golden Monkey Tracking, visit to the Dian Fossey former research site and her final resting place.  You can also do various hikes, including volcano day hikes and climbs into the Virunga Volcanoes.
In the evening you will entertained by Traditional Rwandan Intore Dancers which is quite a treat for you to enjoy.
Enjoy your stay at Mountain Gorilla View Lodge in the shadows of the Virunga Volcanoes. and always take a look at what others say in TripAdvisor.
---
Mountain Gorilla View Lodge – Volcanoes National Park -if you like to use this lodge for your safari with us – please contact us.


---