Le Petit Village Boutique Hotel -Kampala Stands out above the Rest
An Intimate Boutique Hotel that exudes class and distinction with an authentic African Touch
---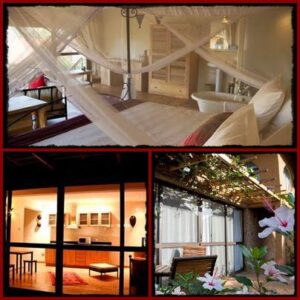 There is a hotel on almost every corner in Kampala, there are not many up-market quality, boutique hotel and there is certainly only one Le Petit Village Boutique Hotel – Kampala with its distinct thatched cottages overlooking a crystal clear swimming pool, a verandah where one can take the relaxing setting and enjoy reading a book.  You will love the quality decor, comfort, service that is synonymous with Le Petit Village Hotel in the Quality Center on Gaba Road next to the American Embassy.
Simply stated – Le Petit Village Hotel oozes with class and charm and most discerning Africa Travelers will be delightfully surprised what awaits them at Le Petit Village Hotel.
There are three levels of suites available including the Junior and Executive Suites- Every one of the suites has air conditioning, en suite bathrooms, a flat-screen TV, Satellite TV service, DVD player, WiFi, telephone, refrigerator with complimentary drinks, electronic safe, in the executive suite there is a kitchen with microwave, stove, refrigerator and all the things you might need to cook up a meal if you so wish.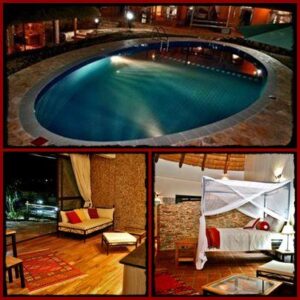 When it comes to food you can take the walk over to one of finest culinary establishment – Le Chateau and enjoy some of the finest Belgian and Continental Cuisine with an African accent all overseen by a Belgian Chef.
You can also visit the in the same center Quality Cuts Delicatessen pick up some fine cold cuts and cheeses, continue to the Cellar for that Choice wine and lastly over to the Patisserie and Bakery for that perfect baguette and have a lunch on the deck overlooking the pool and for dessert have a fresh Ugandan pineapple – no pineapple in the world compares – all purchased within the Quality Center of which is Le Petit Hotel is a part.
People come from all over Kampala to enjoy a meal at Le Chateau since it serves some of the finest fare in the city and once you have had a meal here you will certainly agree.
Le Petit Village Boutique Hotel – Kampala is a great place for your first day in the Pearl of Africa before you head out on Safari the following day and it equally great for your last day or two after your safari as you visit some of the sights that Kampala has to offer.
You are just 10 minutes from downtown as long as you do not try do so during rush-hour, but have a relaxing breakfast first or a morning swim in the pool. – venture over to the fishing village of Gaba, especially on market day and watch the boats being loaded and unloaded, fish being sold at auctions, simply some great cultural photo-ops.
Kampala is the city that never sleeps, nearby is Kabalagala – it means pancakes – however in Kampala it is nightclub and bar row as you mostly likely have never seen anywhere else and it certainly would give you an insight into the celebratory Ugandan spirit.
You will enjoy Le Petit Village Hotel – take a look at TripAdvisor and see what others have said of their stay here and you will find that they have excellent reviews …enjoy Uganda…enjoy Le Petit Village Boutique Hotel – Kampala one of Uganda's unique Boutique Hotels, there are not many in the class of Le Petit – besides some of the best food in Kampala is served in the ever busy Restaurant, Belgian delights that are both a sight to behold and then there is the taste…
---
Le Petit Village Boutique Hotel – Kampala- if you like to use this Hotel during your Safari with us – let us know.