Special 7-Day Gorilla Safari Beginning August 23
Mid-Range or Luxury Private Safari – 2-Participants required – more days can be added
---
This is a Special 7-Day Gorilla Safari offering only from Kabiza Wilderness – The Gorilla Trekking Date for this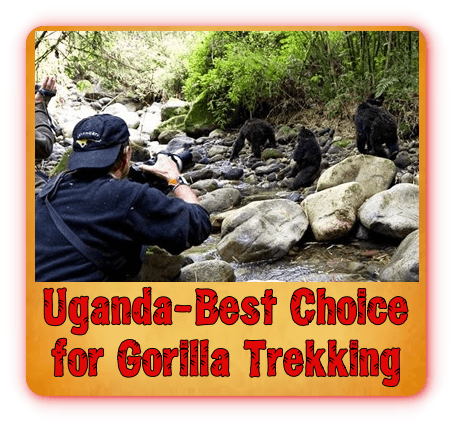 Safari is August 24.  The Safari includes the Permits for those dates.  The permits are in our possession and are already bought by us.  Gorilla Permits in July and August are a rarity in 2019.  We have them and can offer this 7-Day Gorilla Trekking, plus Chimpanzees and Wildlife Safari to you.
How can we offer a  7-Day Gorilla Safari with Gorilla Permits (Rushaga Area of Bwindi Forest) during two the two months of the year where you simply cannot find any.  The answer is simple we have the Gorilla Trekking Permits in our possession and have chosen to put them as part of the 7-day mid-range or luxury Safari below.
The Safari must begin on August 23rd, 2019.  The Gorilla Trekking Dates cannot be changed.  The Safari we are offering is for 7-days or longer and cannot be shortened.
For Luxury Safaris – a flight can be added that will have no drive time between Bwindi and Queen Elizabeth Park, as well as a flight from Kibale Forest to Entebbe.
Mid-Range Cost per person 2,329 USD – Two Participants
---

Safari Highlights
Gorilla Habituation Experience  – 4-Hours with a Gorilla Family
Tree-Climbing Lions in Ishasha – Queen Elizabeth Park
Lion Tracking Research with Collared Lions – Queen Elizabeth Park
Wildlife Game Drives
The Scenic Explosion Crater Drive with its Stunning Crater Lakes – Best Views in the Park.
Bigodi Wetlands Sanctuary Walk – a Jungle Swamp
All-Day chimpanzee Habituation in Kibale Forest or normal Chimpanzee trek of 3 hours plus.
Mid-Range or Luxury lodging


---
Your Special 7-Day Gorilla Safari Beginning July 24 or August 23
---
Day 1 – Drive to Rushaga – Bwindi Impenetrable Forest in Uganda:
7-Day Gorilla Safari -Wildlife Safari begins. We leave your hotel in Kigali for  Rushaga. The drive time to Rushaga is about 4-hour plus depending on the Border Crossing – Visa for Uganda is 50 USD.  You can also get an East African Visa from Rwanda Migration Ministry which you can get online.
Normally the border crossing is about 30 minutes and you are in Uganda heading for the ancient Bwindi Impenetrable Forest through what is often called the Gorilla Highlands and Lake Mutanda.
We arrive in the Rushaga area of Bwindi Impenetrable Forest where there are more and more mid-range lodging choices that you can choose below.
Lunch
Options:  During the Afternoon you can take the Buniga Forest Walk with the Batwas – a Pygmy Tribe, the first people of the Rainforest in the area.  They lived in harmony with nature until they were evicted from the Forests when the National Park was formed in 1991.  This is a 3-hour activity and you can include a visit to their village.  You will learn the ancient Batwa Culture of hunting and gathering.
Dinner
Meal Plan: Breakfast – Lunch – Dinner
Lodging:  Bwindi Jungle Lodge – Midrange – Gorilla Safari Lode-Upmarket – Clouds Mountain Gorilla Lodge – High End
---
Day 2 – Gorilla Trekking – Rushaga: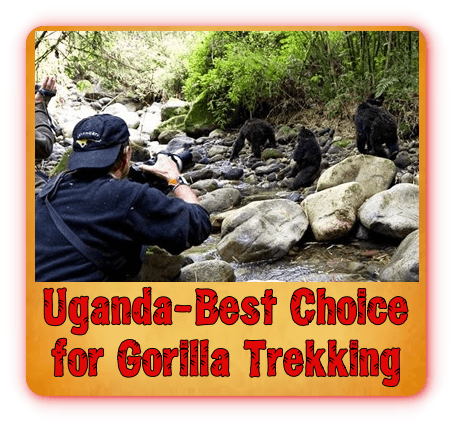 Early Breakfast and take your packed lunch from the lodge, you need the right gear – have a daypack,  2 -liters of water, daypack, long trousers, gardening gloves for pulling yourself up on branches, long-sleeved shirt. waterproof boots, hat, rain jacket,
The Permits are for the Rushaga Area – the Gorilla Family you will be trekking is determined on the day of the Trek during the orientation based on your input and physical fitness.  The length of the trek is determined by where in the Forest your Gorilla Group is on that day.  Normal treks are between 3 and 5 hours – rare times longer.
Return to the trailhead and it is back to the lodge.
Meal Plan: Breakfast – Lunch – Dinner
Lodging:  Bwindi Jungle Lodge – Midrange – Gorilla Safari Lode-Upmarket – Clouds Mountain Gorilla Lodge – High End
---
Day 3- Queen Elizabeth Park:
After Breakfast, we drive to Queen Elizabeth Park where we stop in the Ishasha Region to take a Game Drive in search of the Tree-Climbing Lions of Ishasha.  This the best place in East Africa where you can readily see the Tree Climbing Lions sleep away the day. Besides Lions, there is a large Elephant – Buffalo Population here
Drive time from Rushaga to Ishasha is 5-hours depending on the road conditions that day.
Check into Lodge either mid-range or luxury
Lunch
Afternoon Game Drive in search of the Tree-Climbing Lions and other wildlife that you can see in abundance here.
The game drive is 3-hours long and you have a pop-up roof in the vehicle.
Dinner
Meal Plan:  Breakfast-Lunch-Dinner
Lodging:  Enganzi Game Lodge
---
Day 4- Queen Elizabeth Park:
Breakfast and we drive to the Mweya area of the park.  This is a 2 1/2 hour plus drive through the park.
Lunch
In the afternoon the fabulous Kazinga Channel Wildlife – Birding, Reptile Boat Safari that is one of the highlights of your Queen Elizabeth Park Visit.
This is a 2-Hour long Boat Safari, you wil
l wish it was longer.
The Boat Safari can be taken with the Uganda Wildlife Authority Boat or with the smaller Mweya Safari Lodge Boat. The latter is slightly higher in price but for most a better experience.  A private boat safari can also be arranged for you.
Dinner
Meal Plan:  Breakfast-Lunch-Dinner
Lodging:  Enganzi Game Lodge mid-range- Katara Lodge Upmarket- Kyambura Gorge Lodge – high-end
---
Day 5- Kibale Forest:
Breakfast
Lion Tracking Research – here you are with Researchers from the Carnivore Project and track the Collared Lions, leopards in this part of the park, not only will you see lions, but a learning experience about the lions.
This Activity is not a normal Tourist Activity, however, our past clients have found it to be an activity not to be missed while in Queen Elizabeth Park. Afterward, we drive to Kibale Forest which is 2 1/2 hours.
Lunch
Afternoon 3 PM – Bigodi Wetlands Sanctuary Hike.  This is a guided 3-hour hike through a Jungle Swamp, much of it is on planks that act like a boardwalk above the swamp.  Your experienced guide is from the local community that has maintained the Wetlands for many years with thousands visiting each year.
During the Afternoon you might spot Chimpanzees, Colobus Monkeys, also baboons.  The area is well-known for birds, the chief attraction is the Blue Turaco.
When it comes to Mammals you can see otters, bush pigs, mongoose, and the rare Sitatunga Antelope to name a few.
Meal Plan:  Lunch – Dinner
Mid-Range Lodging Choices
---
Day 6 – Chimpanzee Habituation Experience Kibale Forest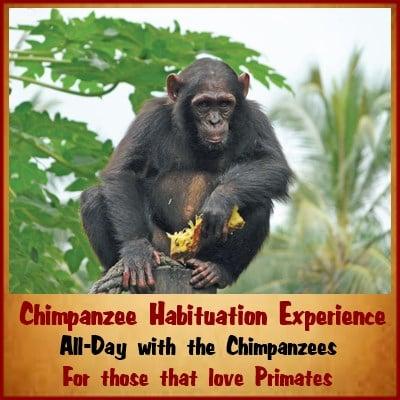 Early Breakfast and you are off to meet with your Ranger-Guide who will take you into Kibale Forest where a Chimpanzee Group is being habituated, a process that takes up to two years.  Habituation teaches the Chimpanzees to allow humans in their presence.
A chimp community can number over 100 members. Chimpanzees live in a relational social structure,  the alpha males defend against other chimpanzees trying to move into the territory.  Females are part of smaller family groups and nurture the young.
Way before you see the chimpanzees, you will hear their hooting calls in the distance.  Soon you come upon them and spend one hour with them observing their ways and habits.
Normally you might see 4 to 6 primates here, many of the birds, the butterflies, mammals found here and of course the forest itself with its vegetation that is unique. On all-day habituation, you will see a lot more than on a trek.
It is important that you wear the right clothing and shoes and have at least 3 liters of water with you, plus a packed lunch
Lodging: Isunga Lodge
Meal Plan: Breakfast – Lunch – Dinner
---
Day 7 – Entebbe:

Breakfast
The Gorilla-Chimpanzee Habituation Experience – Wildlife Safari comes to an end. Today's activities will depend on your flight departure out of Entebbe International Airport.  The Drive-Time is  5 hours depending on what time of day we reach Kampala and the traffic there.
A Day-Room can be arranged here for you until your flight out.  We can also arrange for overnight
Contact us with the Below Form – Starting date must be August 23 – 2019
---
[contact-form subject="Kabiza Wilderness Safaris – Gorilla Trekking – Habituation"][contact-field label="Name – First – Last" type="name" required="1″][contact-field label="Country I am writing from" type="text" required="1″][contact-field label="Email (Check for correctness)" type="email" required="1″][contact-field label="Number of Participants – 15 years Minimum Age – 2 required for this Safari" type="text" required="1″][contact-field label="Choice of Lodging" type="radio" required="1″ options="Moderate – $$ 150 to 350 USD for 2,Up-Market $$$ 400 to 800 USD for 2,Exclusive Luxury $$$$+ 800 to 1300 USD in Uganda – Up to 2600 USD Rwanda for 2″][contact-field label="Country for your Safari" type="checkbox-multiple" required="1″ options="Uganda"][contact-field label="Kind of Gorilla Safari" type="checkbox-multiple" required="1″ options="Gorilla Trekking Uganda 600 USD Permit is included – 1 hour with a gorilla family,Combined Gorilla and Chimpanzee Trekking Safari (7 days)"][contact-field label="Fly into " type="checkbox-multiple" required="1″ options="Kigali-Rwanda,Entebbe- Uganda,Fly into Kigali – Rwanda – Trek Gorillas in Uganda,Fly into Kigali – Rwanda- Fly out of Entebbe – Uganda"][contact-field label="Add Additional Activities" type="checkbox-multiple" options="Lake Mburo National – Park,Lake Bunyonyi – Uganda,Murchison Falls National Park-Most powerful waterfall in world ,Kidepo Valley Park – Africa as it once was 50 years ago CNN-3rd best African Park"][contact-field label="Beginning Date of Safari" type="date"][contact-field label="Ending Date of Safari" type="date" required="1″][contact-field label="Detailed Input regarding your Safari" type="textarea" required="1″][/contact-form]
We respect your Privacy – The information you entered on the Gorilla Safari Planner will not be shared