Jacana Safari Lodge – Queen Elizabeth National Park – located on Uganda's Largest Crater Lake
Jacana Safari Lodge overlooking Lake Nyamasingiri – up-market comfort with a great view of a crater lake.
---
Jacana Safari Lodge – Queen Elizabeth National Park – Up-Market – Located at the northern end of
Maramagambo Forest overlooking Uganda's largest Crater Lake, Lake Nyamasingiri.  Hike and bird through Maramagambo Forest, boat on the crater lake, even have dinner at the Captain's Table while floating Uganda's Largest Crater Lake Lodge.
Jacana Lodge – Queen Elizabeth National Park . one of the best Crater Lodges is along the Crater Lake Trail in Western Uganda that takes in Kibale Forest, Fort Portal, the Rwenzori Mountain Foothills and Queen Elizabeth Park.
Jacana Safari Lodge is somewhat away from where most other lodges are in the park, has 10 upmarket cottages that are nicely furnished, come with en-suite bath and have a view of the Crater Lake.
---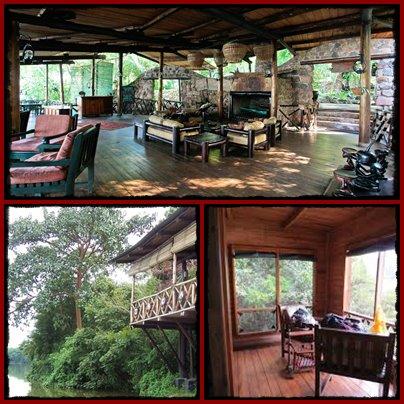 Jacana Safari Lodge – Queen Elizabeth National Park set on Uganda's largest crater lake offers ten spacious, upmarket cottages and a family cottage with two rooms joined together.  Each is secluded by the surrounding Maramagambo forest.All rooms have en-suite bathrooms with hot showers (some claim the best hot showers in Uganda) and an enclosed veranda where you have splendid panoramic windows with views of Lake Nyamusingire.
Jacana Safari Lodge reminds one of a sort of Giant tree house in the forest along Lake Nyamusingire  The Lodge seems to be an extension of the forest, everything in harmony with nature.  The combination of the natural materials brought together with the colorful textures, the decor of your cottage and the lodge.
The Bar and the restaurant are suspended over the Crater lake with a stunning view as you have a drink, lunch or dinner at Jacana Safari Lodge – Queen Elizabeth National Park. You can even watch the wildlife while you eat.  The food is superb and prepared to International Standards.
The service throughout the lodge is great and most almost with a welcoming smile as you sit in the lounge with the fireplace radiating forth sights and sounds – the meals are mostly on time.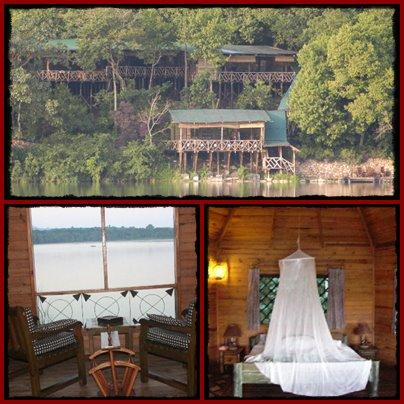 There is a swimming pool right next to the lake where you can take a refreshing dip or sunbathe, cold drinks to cool you down nearby. There is also a Sauna for guests and a massage area.
Lunch and Dinner can be taken on the Captain's Table – a boat where you will float on the lake while taking your meals.
---
Activities At The Lodge
Game Drives – Safaris to Mweya Peninsula in search of elephants, warthogs, lions, leopards, antelopes and more.
Hot Air Balloon Safaris in the Mweya Area
Kayaking – Venture out onto the lake and take a picnic basket with you.
Kazinga Channel Boat Cruise: Observe hippos, elephants, crocodiles, buffalo and thousands of birds while you calmly cruise down the channel.
Hikes and Nature Walks
Cave Visits
Chimpanzee Trekking
---
Jacana Safari Lodge – Queen Elizabeth National Park – if you are interested in using this lodge during your safari with us – please let us know.

---