The Question in 2020-201 "Is Rwanda Safe for American Visitors?"
FAQs – Frequently Asked Questions: Is Rwanda safe for Americans and anyone else in 2020-2021?



Questions Answered that Americans have about Safety and Security in Uganda.
---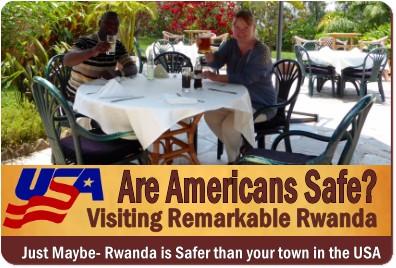 FAQ – 1: Is Rwanda safe for Americans? A fundamental question that Americans ask when they think about visiting Uganda.
"Is Rwanda safe for Americans? It is "that search term" that brings many to this page each day. Oddly not many ask Is Rwanda safe for Germans, Danes, Belgians, Canadians, Australians, Russians, Chinese, or Indians? 
Is Rwanda safe for Americans? In Short, without going into Details, Rwanda is ranked as one of the safest countries in Africa. Yes, Rwanda is Safe for Americans and anyone else. At present, you will find nothing about harm coming or having come to American Tourists in Rwanda.
Rwanda is recognized as the safest country in Uganda. When it comes to tourism, South Africa does not hold a candle against Rwanda. Kigali is safer than Nairobi, Johannesburg, Capetown, Lagos, and most African big cities.
In regards to safety and security, 99% plus of the Visitors, especially Tourists on a Safari, never have any safety and security issues in Rwanda, one of the highest-ranked safe nations in Africa.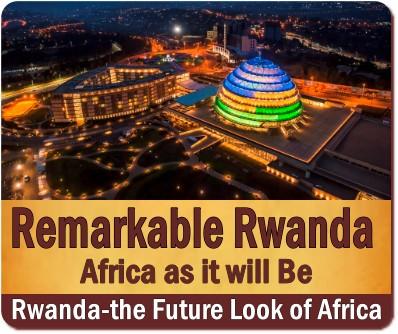 Why, despite the above, many Americans and others think that Rwanda might be dangerous. That Rwanda might be a country to be avoided by Americans. How do Americans and others get these wrongful perceptions about Uganda? 
Most African nations, including Rwanda, get a bad wrap in the press. The press in the US is not favorably inclined toward African nations, including Rwanda. Not many US Press Agencies have on-site reporters in Uganda. The news about Rwanda is often written outside of the country. 
Travel Writers put Rwanda into a favorable light. Portraying Rwanda the way that it is for visitors.
We like to think that the English writer and philosopher Aldous Huxley was right when he wrote, "To travel is to discover that everyone is wrong about other countries." 
Rwanda is an African Country with a different face. It is unlike that you might respect. Rwanda is the Singapore of Africa, and what awaits the visitor is the future face of Africa. 
Rwanda is what Africa can be, and that includes safety and security for visitors and Rwandans alike. Rwanda deserves to be ranked as one of the safest countries in Africa.
---
Americans who do come to Rwanda are surprised as to how wrong they were about remarkable Rwanda. How safe and secure they felt during their time in Rwanda. How welcoming, friendly, and hospital Rwandans were.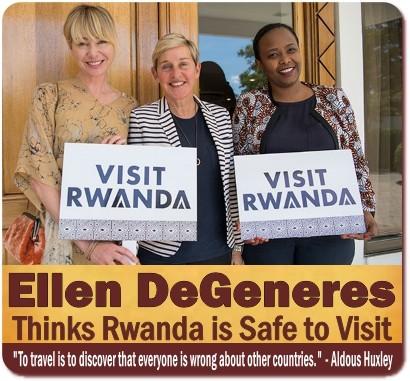 Uganda is one of the friendliest, welcoming, and hospital countries in all of Africa. Uganda has welcomed over a million refugees in the last few years. African hospitality is deeply ingrained in Ugandan culture.
Here is the feedback we get from clients after their Safari." I felt safe in Rwanda." Refreshingly different from the ominous self-appointed Uganda doom and gloom experts whose blogs or posts on Travel Forums you might have read." I was wrong about Rwanda," is what many of our Clients tell us or write to us after they visit Rwanda. 
I, as an American, spent a lot of time in Rwanda during the 90s. Rwanda is one of the few Africans that has risen like a Phoenix from the ashes of one of the worst Genocides. Rwanda 1994 is in the past, and few physical reminders remain except the Genocide Memorials.
Today, unlike in its past, there are no Hutus, no Tutsi, no Twa, only Rwandans. The scars of the Genocide remain in the hearts of Survivors. Yet Hope in a better Rwanda is slowly displacing the scars of the past. "Never Again" has become the inner resolve of all Rwandans, and the visible evidence is all around you.
Visitors today, often feel safer in Rwanda than they would in parts of the USA, especially at present and the security conditions that seem to have
---
FAQ – 2: Is Rwanda safe for Americans -and anyone else in 2020-2021?
Each day the query "Is Rwanda Safe for Americans?" shows up in our Website analytical statistics.  You do not find the question, "Is Rwanda safe for Brits, Germans, Danes, Belgians, Canadians, Russians, Chinese, Indians?" Each day Americans query whether Rwanda is safe for Americans?
Is Rwanda safe for Americana? A resounding Yes is the answer.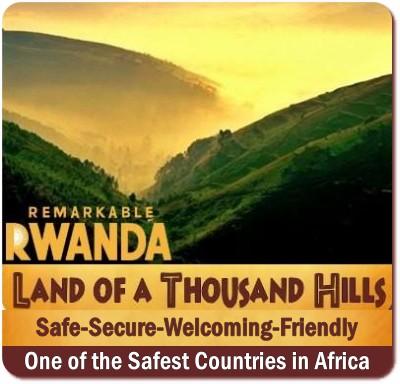 Rwanda is rated as one of the safest and most secure countries in Africa, especially for visitors to Rwanda and even more so if specific Safety and Security guidelines and tips are followed during your visit to the Land of a Thousand Hills.  Kigali one of the safest capitals in Africa, and over 99% plus of visitors come and leave Rwanda without an incident.
Rarely do you read anything in the local newspapers about a visitor to Rwanda having safety and security problems?
Things such as petty theft, credit card fraud, overcharging common-sense steps can be avoided by taking common-sense steps. You do not do things in Rwanda that you would not do at home. That attitude will save you from a multitude of problems.
Kigali, Rwanda, when it comes to Central and East Africa, is probably the one capital in the region where a Tourist will feel very safe. The city does not differ from many Western Cities. If anything, Kigali is better.
You are in Africa, and yet there is a sense of order and modernity found here.  Some call it the Singapore of Africa.  Even its nightlife is mild, and the sidewalks roll up at night, recently one letter writer proposed to close Bars by 9 pm. Each month there is "Umuganda Day." It is a day where all pitch in to clean up, repair, and fix up Rwanda.
Hotels, Lodges, Restaurants use security personnel to make sure your stay with them is undisturbed.  Shops, Banks, Stores, Offices, Restaurants, Bars have security personnel stationed both outsides and at times inside of them.  If you are an American wanting to enter your Embassy, you will find it like a fortress, with layers and layers of security, and once inside be speaking to an embassy official, you will do so through a bulletproof window in most cases.
The Rwandan government fully realizes that it is its sacred duty to ensure the safety of visitors to Rwanda and its citizens.  The presence of police is found almost everywhere, ranging from traffic police to tourism police all there to make sure that Tourists and Visitors are safe.
Is Rwanda safe for Americans -and anyone else? Rwanda is safe for visitors and tourists, including Americans.  Rwanda is home to some of the friendliest people on the African Continent, and I, as an American, feel quite safe in Rwanda probably safer than I would in some places in the USA such as Capitol Hill in Seattle, Washington, the State where I come from.
---
FAQ -3: What about the October Rebel Attack near Volcanoes National Park?
On October 4, near 10 pm a group of FDLR -The Democratic Forces for the Liberation of Rwanda (French): Forces démocratiques de libération du Rwanda, FDLR) an armed rebel group active in the eastern Democratic Republic of the Congo attacked the Kinigi area in the Musanze District in northern Rwanda.
They attacked with pistols, rifles, machetes killing 14 and wounding 18 Rwandans. No tourists were harmed.
Rwandan security forces confronted the attackers, and 19 rebels were killed, and five were captured. The captured confessed that they were members of the infamous FDLR Rebel Group that seeks to overthrow the present government of Rwanda under the leadership of President Paul Kagame.
Those not killed or captured fled back to the Democratic Republic of Congo through Virunga National Park.
The Rwandan victims were buried in one grave in a mournful ceremony.
The last attack in the area occurred in December of 2018 when the FDLR killed two Rwandan National Park.  Rwandans have suffered from the attacks by the Rebel fighter, including those near Nyungwe Forest National Park. No Tourists or Tourist Lodges or Hotels have been attacked.
Without making light of the Horrific Incident that took the life of 14 Rwandans and wounded a score of others, one needs to put it into perspective. Examine the frequency of such attacks and compare it to the USA.
---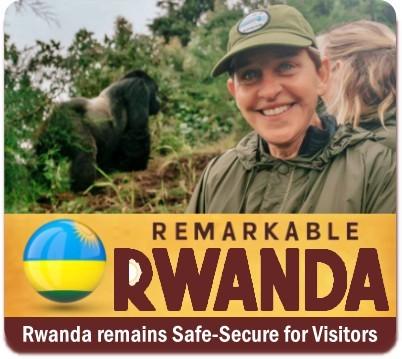 FAQ-4: Is it Safe to Travel to Rwanda after the October 4, 2019, Attack?
Rwanda remains one of the safest countries to visit in not just Africa but the world. Rwanda has that inner resolve never to allow anyone to take them back into the past like the so-called FDLR -The Democratic Forces for the Liberation of Rwanda would like to do.
Rwanda, with the leadership of the purpose-driven President Paul Kagame, will make Rwanda even more secure than it has. Tourism is the most significant income earner that Rwanda has. Everything will be done to protect both Rwandans and Visitors alike.
The levels of security will be increased most often behind the scenes. Border Surveillance, Patrols in National Parks,
Visitors to Rwanda are safer than in South Africa with its carjacking, robberies of tourists as they arrive in the country. Rwanda is the opposite of that. When visitors arrive at the airport, they feel safe.  The courtesy and professionalism evidenced by Rwandan Immigration and other officials are above the norm.
---
FAQ-5: What is African Hospitality in Rwanda?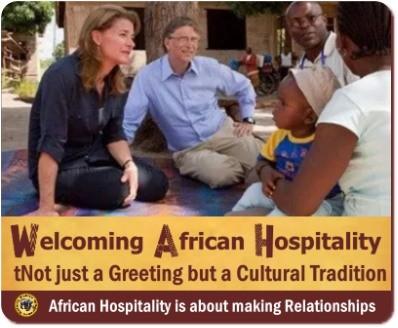 An African Welcome is not just a verbal greeting. It is welcome that takes on the responsibility for your wellbeing. That is what we do for our clients when on Safari.
The concept of African hospitality begins with acceptance. While with us, while under roof on Safari, your wellbeing, safety, security is our focus.
Rwanda is one of the friendliest countries in Africa.  It also one of the most welcoming countries in all of Africa.
The Welcoming African Hospitality is not just a greeting but a cultural tradition that is deeply ingrained in the lives of Rwandans. The My Casa-your Casa saying may be unknown here, but it is practiced.
African Hospitality takes on your wellbeing as a responsibility that is not taken lightly by anyone.
---
FAQ-5: Why Do Americans feel that Rwanda is not safe?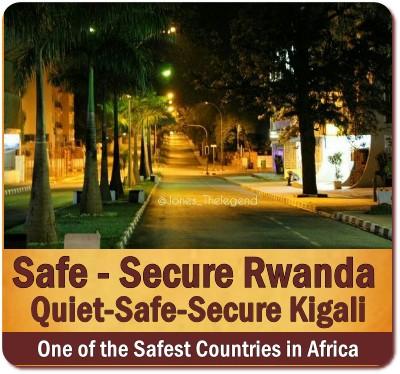 The information that Americans have about Africa, about Rwanda is often incorrect. Life in Africa is not that different from America. The safety portion of Mazlow's hierarchy of need applies as much to Rwandans as it does to Americans. However, Ugandans can thrive in sometimes chaotic conditions. Though in 2020, Americans are catching up.  
Rwandans cannot Purchase weapons. Have none in their homes except farming implements. Robberies are rare. The police are all-around. The military can be seen everywhere.  Rwanda has become the envy of many other African nations. Attempts are made to replicate the Rwandan miracle, but no one has come close.
Safety and security are on most everyone's mind.  In 2017 Rwanda was declared the 9th safest country in the World by the World Economic Forum. Rwanda was placed ahead of Qatar, Luxembourg, Portugal, New Zealand, Austria, Estonia, Sweden, Slovenia, Spain, Netherlands, and Morocco. The USA did not make the top 20 on the list.
Rwanda is safe and secure for Gorilla Trekkers, Safari Goers, Women Solo Travelers, Gays, Rwanda is a safe and secure Tourist.
Reality is, Rwanda is one of the Safest Countries in Africa – Google it.
---
[starbox]