Update: Is Post-Election Uganda safe for Tourists?
March 19, 2021: Is it risky for Tourists on a Safari in Uganda after the Election?
---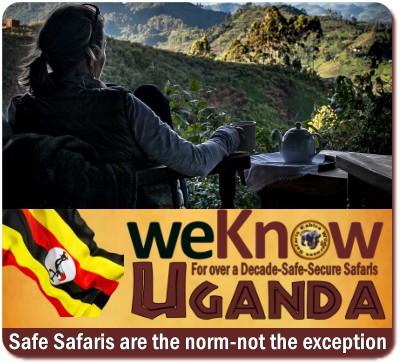 Is Post-Election Uganda safe for Tourists? Is it risky for Tourists on a Safari in Uganda after the Election? Here is the no-spin reality for tourists to Uganda beyond International Press-Reports on the BBC, Aljazeera, Deutsche Welle, Agence France-Presse, and others have reporters in Uganda.
Here you will not find a political analysis about Uganda but a clear, on-the-ground update about how Safe and Secure Tourists and Visitors are to Uganda after the January 2021 Election.
Some Newsoutlets before the election had Uganda on the edge of the Abyss. Headlines and reports predicting that for Uganda were flashed around the world.
There were some troubling days, especially in November of 2020, when there were riots and a questionable Security response resulting in over fifty deaths. Various kinds of security forces arrested many, and so-called kidnappings by security forces took place. President Museveni addressed the riots and deaths and promised full investigations. 
The Election is over. President Museveni won his sixth five-year term in office. His main rival, Bobi Wine – whose real name is Robert Kyagulanyi won the election in the central region of Uganda, including the capital of Kampala and other cities such as Entebbe, Jinja, and Masaka. However, President Museveni won in the rest of the country, which was called into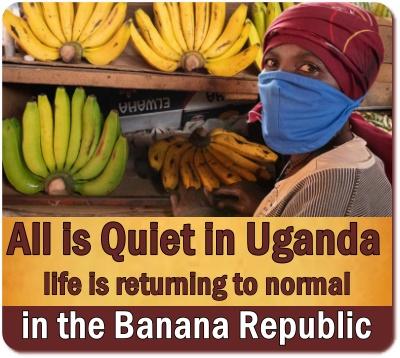 question by Bobi Wine and his National Unity Party.
Bobi Wine called for peaceful protests, and some Embassies such as the American one predicted post-election violence and issued a security alert for its citizens.  The international Press, clearly on the side of the opposition party, predicted the same.
Just before the Election, Social Media was cut off. Even Internet access was cut for over one week. Today in March, Facebook is officially not available in Uganda except if one uses a VPN to access it. Something man Ugandans have done, including members of the Cabinet. The Ugandan government accuses Facebook of meddling in the election and blocking the accounts of members of the ruling National Resistance Party.
Now we are in March of 2021, and most Ugandans, no matter if they are sympathetic to the ruling party or the opposition, are concerned about eking out a living during these trying times. In contrast, the COVID-19 pandemic has not killed thousands as in the rest of the world. It has had an economic effect felt by everyone regardless of their political sentiments. 
Since the pandemic started in March of 2020 in Uganda times, have been tough for the average Ugandan. Families often have one meal, are struggling to find needed money for school fees, health care, and the like. Unlike in other nations, Ugandans have had no monetary COVID relief bailouts, such as in the US or Europe. 
---
Is Post-Election Uganda safe for Tourists?
All is Quiet in the Pearl of Africa for tourists. It is not the calm before any storm, peaceful or otherwise. The long rains will soon come to the land that Winston Churchill promoted as the Pearl of Africa. Flights have increased at Entebbe International Airport, and we have had our first group of tourists on Safari since the pandemic began.
This year in tourism, we not only have to deal with the effects and aftereffects of the pandemic we face every five years in Uganda.
Every protest in the streets, every wrongful utterance by a government or opposition officials unbeknown to them, causes a loss in the number of visitors that year. That is something those employed or making a living from tourism do not need.
Uganda's image still suffers from the lingering ghosts of Idi Amin and Joseph Kony. Election violence only reinforces the wrongful image that people already have of Uganda.
Aldous Huxley's words come to mind who said, "To travel is to discover that everyone is wrong about other countries."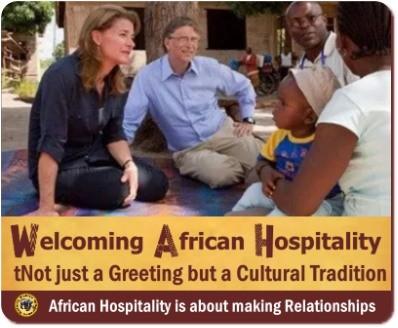 Something true and appropriate currently in Uganda.
Winston Churchill had it right when he wrote in 1908, "The People are Different."  Ugandans in 2021 are still that, they are welcoming and friendly, part of Ugandan hospitality dictates that one keeps guests to one's house safe from harm, which is the attitude most Ugandans have toward Tourists, no matter what they might believe politically.
The Ugandan spirit found in its people finds ways where there are no ways. Ugandans remain friendly, hospitable, and kind to visitors to the Pearl of Africa. Many visitors to the country exclaim as they leave, "Uganda was very different than what I thought it would be like."
No, Uganda is not on the edge of the abyss. Its people remain resilient as ever, dreaming of a brighter future and better tomorrow.
Uganda's potential is far from realized. Ugandans want a safe, secure, stable country where their children can enjoy a better tomorrow.
---
Keeping our Clients Safe and Secure on Safari in Uganda

We use secure Hotels in Kampala, away from any area where demonstrations have taken place or are likely to take place.
The Present Road system allows us to bypass Kampala as we head for key Tourist Destinations.
We organize Flying Safaris from Entebbe to Major parks for those that want to bypass Kampala.  That costs.
We give our clients the option of flying into Kigali Rwanda and Trekking Gorillas in Uganda with the possibility of flying out of Entebbe.
If you happen to be on your own in Kampala or any town where a political demonstration is taking place – we suggest 
Do not photograph police, military personnel, government buildings, or protests.
Stay aware of your surroundings and the people that are near and around you.
No nighttime Driving from Entebbe to Kampala – we keep our Clients in Entebbe if they arrive at night.  
Avoid Political Discussions in Public Places and make no disparaging comments about the government, opposition candidates, etc. 
Safety and Security Measures that we take away from Kampala in Parks
While you are on a Safari with us, we continuously monitor Safety and Security Conditions.
No movement on foot without an armed Ranger escort-outside of park stays with your driver-guide, including Gorilla, Chimpanzee, Golden Monkey Treks, Volcano Climbs, etc.
No Driving in parks from 7:30 pm until 6:30 am.
No wandering away from Lodge that is in the park or at the edge of it.  There are wild animals, plus it avoids contacting poachers.
No Game Drives without an armed ranger on board vehicle
Have at least a copy of your passport in a daypack and your cell phone for all activities. Please turn it off on activities such as Gorilla Trekking.
Boat Safaris, we encourage the use of a life vest.
On a Family Safari, never let children be unattended.
Dress for the occasion – gorilla, chimpanzee trek, hike, volcano climb – follow our suggestion. They are for your wellbeing.
Use a porter whenever available such as for Gorilla Trekking.
Do not wear Camouflage clothing – it gets you unnecessary attention and is against Ugandan Law.
Sitting on the roof of a vehicle is not allowed since the Uganda Wildlife Authority deems it dangerous.
Nocturnal Game Drives are only conducted with Uganda Wildlife Vehicles except where UWA authorizes a lodge.
We suggest no self-drive Safaris presently.  Be safe and use a Ugandan Tour Operator such as ourselves.
Uganda has implemented a COVID-19 Standard Operating Procedure for visitors to Uganda, Lodges, Hotels, Tour Operators, Primate Tracking, and Parks.
Is this all necessary? The answer is no, but we want to be sure that our clients are safe and secure.  We are proactive rather than reactive.  Uganda, once again, is in the negative news cycle. Informing our clients and others as to the reality here in Uganda beyond headlines, wrongful assumptions, we are glad to play a little Part.  
---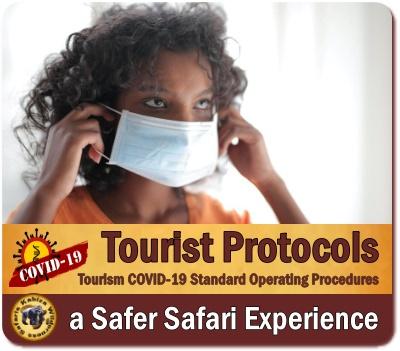 Gorilla-Chimpanzee Trekking- Wildlife Safaris COVID-19 Protocols
2020 was a year that the world stood still. The harsh winds of the COVID-19 pandemic swept around the world. Travel, including travel to Uganda, came to a screeching halt. Most of us lived under the shadows of one lockdown or another.  Many of us developed a severe case of cabin fever which only will be cured as we travel again.
Most of us are being vaccinated. We are starting to dream again of an encounter with the forest's gentle giants, the Mountain Gorillas in Uganda.
We never had the full assault of the virus here in Uganda. Now one year later, we had 345 that died during the past year. Tragic for the families affected but nowhere near what took place in Europe, North and South America, and parts of Asia.
To keep everyone safe, tourists, those in tourism in Uganda, and the gorillas and chimpanzees who are susceptible to the virus, the Ministry of Health, together with the World Health Organization, has together COVID-19 Standard Operating Procedures intended to keep you well on a Safari in the Pearl of Africa. We suggest that you read them, and it will help you decide whether you can feel safe on a safari in Uganda. Here are theCOVID-19 guidelines.
---
Is Post-Election Uganda safe for Tourists? Our Final Take:
Ugandan 2021 Presidential Election and Tourism: Uganda had a most vibrant election. Things did not always go according to plans, no matter whose plans they were.
Today, Uganda is and remains safe and secure for Tourists, there are no Storm Clouds on the Horizon, and no Typhoon or Hurricane is about to sweep across the country.
I was an American, feel safe in Post-Election Uganda, living in one of Kampala's suburbs. Things were much more violent in the US State Georgia, where a senseless killing spree took eight lives.
Most tourists are delighted that they came to visit the Pearl of Africa.
Uganda, for the past few months, has been squeezed between an election and the COVI-19 pandemic.
Sensible normalcy has returned to the plan, and Ugandans publicly or privately breathe a sigh of relief.
[starbox]