Emeraude Kivu Resort Hotel – – Eco-Friendly Up-Market Lodge on Lake Kivu
Emeraude Kivu Resort Hotel a perfect place to relax and chill out in Cyangugu along Lake Kivu
---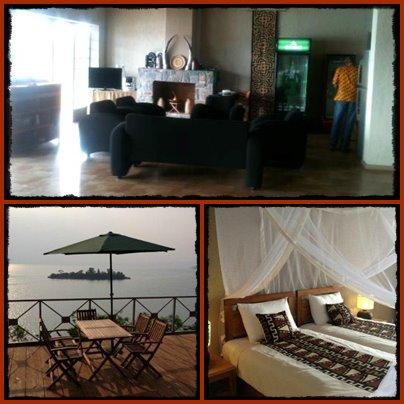 Emeraude Kivu Resort Hotel, a boutique hotel, is the only upmarket lodge – hotel in the Cyangugu area of Lake Kivu and makes the area more attractive to visitors to Rwanda and Lake Kivu who want more amenities than minimal ones.
Emeraude Kivu Resort is an attractive hotel that is set on the Karombe peninsula that stretches out into Lake Kivu with expansive views of the lake and islands before you. Where you can watch the fishermen go out at night and return in the  morning rejoicing in their catch.
Emeraude Kivu Resort Hotel is an Eco-Orientated  Hotel that lives up to its name Emeraude which translated from French means Emerald and stands for the color "Green".  While taking the conservation approach it does not offer a spartan like facility to its guest but a boutique hotel that is a welcoming, warm, cozy, comfortable up-market like standards that only enhance the natural setting where Emeraude Kivu Resort Hotel is located.
There are 8 guest rooms and each has a splendid view of Lake Kivu and you even get a glimpse of the Democratic Republic of Congo.  There are also two tented cottages located down by the lake itself, tents that are with en-suite bath and give you an even more close-up view of the lake and islands.  The tents are built upon a platforms and inside you have wooden floors – a deck to sit on and watch the glorious Lake Kivu sunsets with a glass of wine.
An important part of any stay at a hotel, lodge is the food served there – at Emeraude Kivu Resort Hotel you are served what could be called fusion dishes that often combine the continental cuisine with a distinct Rwandan touch to the delight of the guests who stay here.  Much of the produce is grown right in their own garden whch means what you is set before you is simply fresh and a delightful treat both to the eyes and to the palate.
Service is of excellent nature and beyond what is often found in East Africa where people are friendly, warm and welcoming, however customer service is something not found at many levels of society – thank goodness that has been changing and Emeraude Kivu Resort Hotel is doing its part.
The hotel has three motor boats with which you can explore Lake Kivu that is in front of you and that includes visits to islands, birding and more – an added feature to the hotel.
Emeraude Resort Hotel is a welcome additions to the Cyangugu of Lake Kivu, one would advice reading TripAdvisor reviews since things can change and the reviews will help you whether this is the right place for you.
---
If you like to use the Emeraude Kivu Resort Hotel while on Safari with us – please contact us


---