East African Tourist Visa – Makes – Uganda – Rwanda – Kenya Borderless

Visit Uganda, Rwanda, and Kenya – 100 USD – 90 days – Multiple Entries
---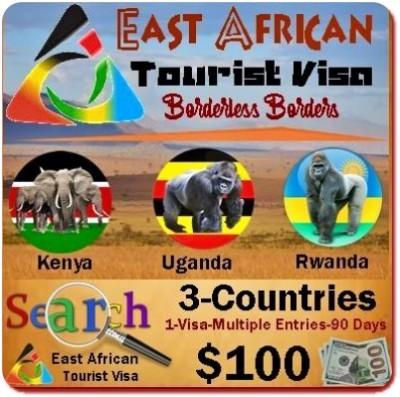 The time and money-saving East African Tourist Visa makes the borders of Kenya, Uganda, and Rwanda borderless.  The visa gives you access to four countries for 100 USD, and you fill out forms when you apply – when you enter another country – it is merely an immigration entrance card, and it is welcome to Kenya, Uganda, and Rwanda.
This has long been overdue – here is the reality about cost – if you did not have a three country visa, you would be spending more on tourist visas, this way you have a single 100USD fee that gives hassle-free entrance and re-entrance for up to 90-day multi-entry access to all three countries.
Tanzania has until now refused to join the East African Effort to promote East Africa as one Destination and is not a participant in the East African Visa Program. Hopefully, that will change shortly, though there is nothing on the horizon that indicates that Tanzania will participate.
---
Your African Safari made it more comfortable with the East African Tourist Visa
Travel in  East Africa has become more accessible and more convenient with the borderless-borders single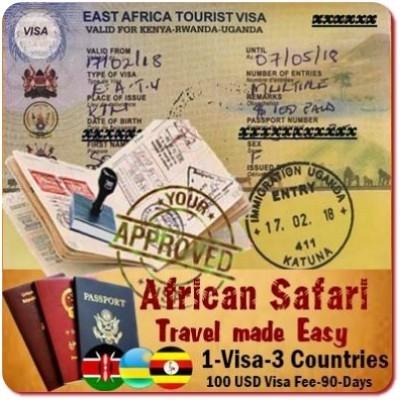 Tourist Visa where you buy one Visa and can visit three countries – Uganda, Rwanda, and Kenya.
Border-Crossings have become more relaxed in East Africa. Now you can quickly fly into Entebbe-Uganda going on Safari and wind up in Rwanda,
Track Gorillas in both countries and fly out of Kigali back home using a single visa for both countries, yes, borderless border have come to East Africa, and you benefit in saving both time and money.
You can visit Kenya, Uganda, and Rwanda on a single 100 USD, 90-day East African tourist visa, it does not get any easier or less expensive.
You can fly into Kigali Rwanda and begin your East African Safari in the Land of a Thousand Hills, safari across the Pearl of Africa-Uganda and end up in Magical Kenya – all with one visa.  
---
East African Visa Requirements by Country:
---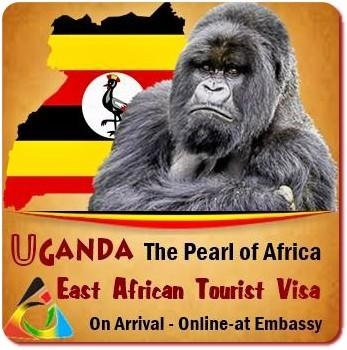 Uganda – East African Borderless Visa:
If Uganda is the first country of your visit to East Africa you can obtain the Visa on Arrival by asking for it, you can do so online, or apply at the Ugandan Embassy in your country.
The easiest, least expensive way is to apply for the East African Visa on Arrival at the point of Entry such as Entebbe International Airport.
Obtaining your Visa on Arrival is the least expensive way for you to get your visa.  There are no mailing fees, no long forms to fill out online, no passport photos, just 100 USD in Cash, which makes you the proud recipient of a Visa.  Do have your Travel Itinerary with you, only in case you need to show proof of Travel intentions.  A Yellow Fever Certificate is required on Entrance to Uganda.
Uganda online East African Visa Application
---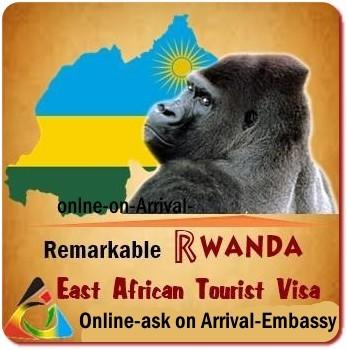 Rwanda – East-African Tourist Visa:
Apply Online via the Rwanda Immigration website. Similar to the application for the single entry visa but make sure to select the East African Tourist Visa instead of Rwandan Tourist Visa.
Unfortunately, Rwanda which as of January 1 – 2018 issues the regular Rwandan Tourist Visa to all arrivals, does not issue the East African Visa on arrival.  Something that Rwanda Immigration needs to reconsider since Rwanda is always at the forefront of making Visas easier to obtain.
The online process with Rwanda to state it has been a pain in the neck to our Clients.  Hence we offer this workaround to those that Visit Rwandan and Uganda only. You can now explicitly ask for an East African Visa on arrival in Rwanda.
The other choice is to obtain a Rwanda Tourist Visa on Arrival, when proceeding to Uganda, obtain a Ugandan Tourist Visa at the border. 
This is what our Clients do that Fly into Rwanda, Trek Gorillas, Chimpanzees in Uganda and fly out of Entebbe, Uganda which cuts down on Drive Times.
---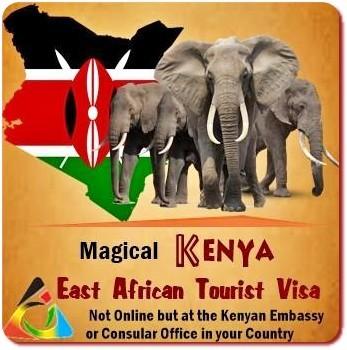 Kenya- East African Visa:
Kenya – the Goliath of Tourism in East Africa needs to seriously look at its present East African Tourist Visa Application Process it is offering to Visitors.  It is the worst of all three participating Countries in the East African Visa System.  While one can easily apply for a normal Kenyan E-Visa, one cannot even apply online for the East African Visa if your visit to Africa starts in Kenya.  You are and have been greeted with this message – "Soon Coming," that is not acceptable if you want to promote East Africa as a single Tourist Destination.
Here is what you have to do obtain an East African Visa through Kenya:  For those beginning their trip in Kenya, you can find information on the visa application process on the consular section of your local Kenya embassy or its website.  Hopefully, there is a Kenyan Embassy or Consular Office in your country – if not – Contact Kenyan Immigration at the link above.
---
East-African Tourist Visa Confusion:
Get Rid of the East Africa Tourist Visa Confusion. The East-African Tourist Visa was proclaimed as Solution orientated, but today the reality is that we have One East African Tourist Visa but 3- Different Policies in applying for it.  That makes it confusing and impractical for Visitors to East Africa.
Many of our Clients that fly into Rwanda and go on a Gorilla – Chimpanzee Wildlife Safari in Uganda forego the East African Visa and purchase a Visa on arrival in Rwanda and at the border with Uganda at the same price or less.  In Rwanda on arrival, you have to ask for the East African Visa specifically.
Our Solution Suggestion is this – apply the KISS formula keeping it simple. Some Countries, seem to have
forgotten that happy Tourists are synonymous with income for the country or countries, jobs, investments, growth, and yes money for the conservation of wildlife and primates for future generations. Tourists do not want to fill out long forms online or in person, have letters of invitations, and any other bureaucratic roadblocks to their time in Africa.
Online – is not convenient – it is a cumbersome, and inconvenient pain the neck designed y bureaucratic pinheads who nothing about Tourism.  
On Arrival East African Tourism Visa is the Solution:  Uganda did not plan an on arrival system, it happened because the online system initially had too many hiccups, neither did Rwanda, they both want the online system.  But now it is a part of the system, and it works well for our clients.  One East African Tourist Visa – 3 Countries – the same way of applying in all three countries should be the Standard.  We recommend on arrival and a simple online application with no gigabyte uploads.  Keep it simple, and keep Tourists coming.
---
Croc Alert: Do not use Rwanda Travel Authorization Service or Uganda Travel Authorization Services -Clients lost money – no Visa
Get your Visa on arrival where possible- Embassies, or official Country Immigration Services – but not imitation sites that take your money and you lost your money and have no visa. Rwanda Travel Authorization Service is not based in Rwanda but operates out of Spain. 
They also have a Uganda Travel Authorization Site.  We have been asked to link this page and others to their page, which we refused even though we were offered pay for click-throughs. Both Rwanda and Uganda suggests not using online 3rd Party Visa issuance agency.
---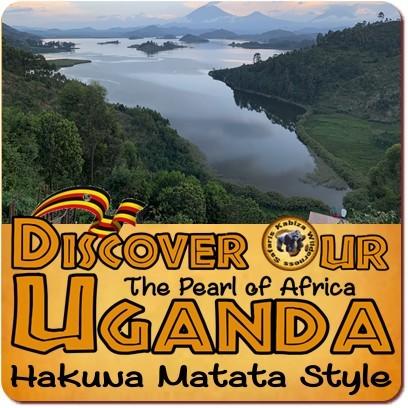 Discover Uganda – The Pearl of Africa
We invite you to visit Uganda- Africa's Premier Gorilla and Chimpanzee Destination plus Wildlife, Scenic Wonders, Volcanoes, the Rwenzori Mountains of the Moon, the River Nile, but most of all friendly, welcoming people.
Uganda is one of the Safest, Secure and Stable countries in all of Africa, below the radar for many, off-the-beaten Tourism Track for most, where safe Gorilla Trekking is still affordable with its 600 USD Gorilla Permits
Winston Churchill in 1907 during his African Travels fell in love with Uganda and popularized the phrase – "The Pearl of Africa" which has remained so until this day.  It was he who said.
"For magnificence, for variety of form and color, for profusion of brilliant life — bird, insect, reptile, beast — for vast scale — Uganda is truly "the Pearl of Africa."
The Kingdom of Uganda is a fairy tale. The scenery is different, the climate is different and most of all, the people are different from anything elsewhere to be seen in the whole range of Africa….what message I bring back….concentrate on Uganda.
Uganda is from end to end a 'beautiful garden' where 'staple food' of the people grows almost without labour. Does it not sound like a paradise on earth?  It is the Pearl of Africa."