Eagle's Nest Lodge – the Best View in Lake Mburo Park
Enjoy the view from your Tent at Eagle's Nest – Budget Lodging – Lake Mburo Park
---
Eagle's Nest – Budget Lodging – Lake Mburo Park. With People often it is about Location, Eagle's Nest is in just the right spot, perched on a high ridge in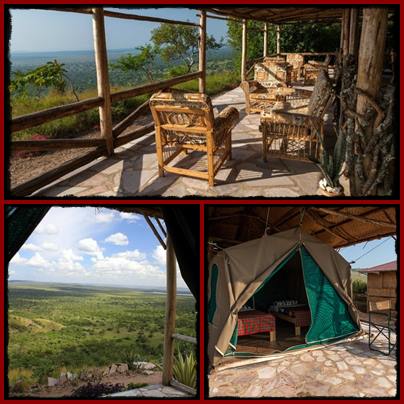 Lake Mburo National Park.  When staying at Eagle's Nest you have the best view in the park and they do not even charge you extra for it.
Eagle's Nest – Budget Lodging – Lake Mburo Park with a view added by nature. The rooms consist of Tents (12 of them) with beds and solar lights in them.  The tents are covered with a thatched roof that protects you during rains and from the glaring Equatorial Sun. The floors are made of stone.
Most often there is a breeze blowing since you are on a ridge and that adds to your comfort.  In the back of each tent there is a unique bathroom with a eco-friendly toilet (special, ingenious invention) and a Bush Shower where hot water is brought when you are ready to bathe.
Each Tent has its own veranda where you can sit and enjoy the scenery before, have a morning cup of coffee as the sun rises and a Sundowner toward sunset in the evening.
There is a lodge restaurant for breakfast and lunch and cold drinks can be ordered throughout the day.  Dinnertime is most special here as a fire is prepared to cook dinner in African Potjies and you can smell the food being prepared as you sit around the campfire.
Eagle's Nest – Budget Lodging – Lake Mburo Park is the lowest priced lodge in the park and represents affordability, good food and all of that comes with a view.
We would be glad to include Eagle's on your Ugandan Safari Itinerary that takes in Lake Mburo National Park.
---
If you would like to include Eagle's Nest – Budget Lodging – Lake Mburo Park in your Safari with us – Please contact us.


---