The Remote Cuckooland Lodge – A Wilderness Experience – Bwindi Forest

Cuckooland Lodge – far from nearby Villages – that all alone feeling in the Rainforest
---
Cuckooland Lodge, a one of a kind Lodge -an out of the ordinary wilderness experience in Bwindi Impenetrable Forest – Ruhija Area.  More than Lodge, Rooms, it is the location that comes with that away from it all feeling. Something that no other lodge in Bwindi has to offer. The lodge is not for everyone, but certainly for those with an adventurous spirit.

---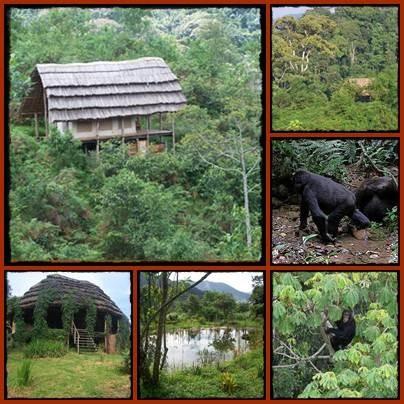 Cuckooland Lodge – A Wilderness Experience – Bwindi Forest is different. There are countless of lodges around Bwindi Impenetrable Forest, but there are none like Cuckooland Lodge, more than a bed and meals, it is  an experience extraordinaire in Bwindi Impenetrable Forest which begins when you arrive at Cuckooland Lodge, as you arrive in the parking area of the lodge, from here it is a 20 minute walk to the lodge itself.
There are no immediate surrounding hamlets or villages, there is only the forest, gorillas at times, chimpanzees and other primates, birds, trees, plants, and flowers.  It is simply unlike any other lodge in Bwindi Impenetrable Forest.  If you like to go off the beaten trek, if you want to experience something as you never have before, then Cuckooland Lodge is the lodge for you during your stay at Bwindi Impenetrable Forest.
There are four Tented cottages erected on platforms, self-contained including shower.  Solar lighting and solar hot water.
Each tented cottage is set right on the edge of the forest in a manner that will delight those who like to experience the outdoors, especially the African outdoors, where your visitors could be monkeys, chimpanzees, and even gorillas at times.
If you did not get enough exercise on the trek in from the parking lot, there is an exercise gym and natural swimming pool for you to work out in and enjoy a cool dip later.   Good and sumptuous meals, private setting, a quiet rainforest in the heart of Africa, primates and birds around you a—all part of a unique experience at Cuckooland Lodge Bwindi Impenetrable Forest.
Normally such unique settings will be in the higher price range, Cuckooland Lodge is an affordable accommodation at Bwindi Impenetrable Forest that combines affordability with a setting unlike any other in the area.  Cuckooland Lodge is Bwindi Impenetrable Forest without the crowds, just you.
Sit down to a lunch or dinner at Cuckooland and enjoy your surroundings as you partake in a delightful meal. Later enjoy a cold drink glancing out at this magnificent and ancient forest, a lodge that gives you a unique experience even before you go Gorilla Tracking and certainly afterward.
Cuckooland Lodge is in a setting beyond the imagination, beyond the ordinary and if you want something to do, there are guided nature or birding walks, swimming, workouts, village visits that can be done from here.
Cuckooland Lodge – A Wilderness Experience – Bwindi Forest is simply out of the ordinary and is on our recommended lodging list for the out of the ordinary experience at Bwindi Impenetrable  Forest alone…enjoy your time at Cuckooland lodge
---
If you like to include Cuckooland Lodge – A Wilderness Experience – Bwindi Forest – in your safari with us – please contact us.

---