Private Wild Encounter Value+ Midrange or Luxury Gorilla Trekking Safaris
Choose your Gorilla Safari in Uganda-Midrange-Luxury-Fly-In-from Kigali-from Entebbe
---
Choose your Wild Encounter Gorilla Safari-Private Value+Midrange, Luxury, Fly-In Gorilla Safaris with Kabiza Wilderness Safaris. We offer both the Usual Gorilla Trekking Safaris in both Bwindi Impenetrable Forest and in the Virunga Volcanoes in Mahinga Gorilla. We also provide the unique, one-of-a-kind-in Uganda Gorilla Habituation Experience Safaris, which we have done so since its inception by the Uganda Wildlife Authority.
There is more than one way to trek Gorillas in Uganda. Fly into Rwanda and Trek Gorillas at a most affordable price, whether value+ plus midrange or luxury. Fly into Entebbe and make your way to Bwindi Impenetrable Forest or Mgahinga Gorilla by visiting other parks Lake Mburo Wildlife Park, Kibale Forest Chimpanzee, and Primate Park, Queen Elizabeth Wildlife Park. Make it a convenient Luxury Gorilla Trekking Fly-In Safari from Entebbe, which is the fastest way and most comfortable way for many.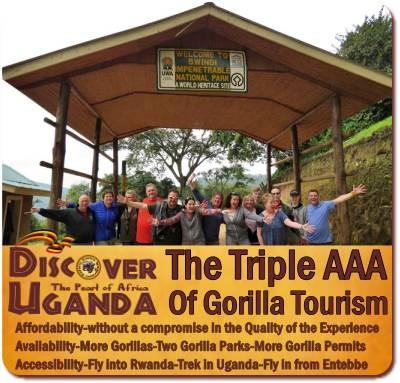 What makes Uganda unique when it comes to Gorilla Trekking Safaris. Three words come to mind, Affordability, Availability, and Accessibility The Reason that Uganda is the Triple AAA of Gorilla Tourism, the Premier Destination by Gorilla Trekkers from far and wide which has led to the "Great Gorilla Trekker Migration" to Uganda.
A spontaneous Phenomenon that began during May of 2017, and took place without any official input. It was a reaction to Rwanda doubling the Price of Permits. Today, informed Gorilla Trekkers choose Uganda as their trekking destination because of Affordability without a compromise in the Quality of Experience.
Because of the Availablity of Permits, Uganda has twice the Permits as Rwanda. Accessibility, you can access Bwindi Impenetrable Forest and Mgahinga Gorilla Park through Rwanda, from Entebbe by vehicle or air. You can have Breakfast in the Masai Mara and dinner in Bwindi Impenetrable the same day.
It is no wonder that Uganda is the Triple AAA of Gorilla Tourism at present and by all appearances for many years to come. 
---
Choose your Gorilla Safari in Uganda – Value+ Midrange & Luxury Safaris
Choose your Gorilla Safari in two Parks- Bwindi Impenetrable Forest-Mgahinga Gorilla Park
---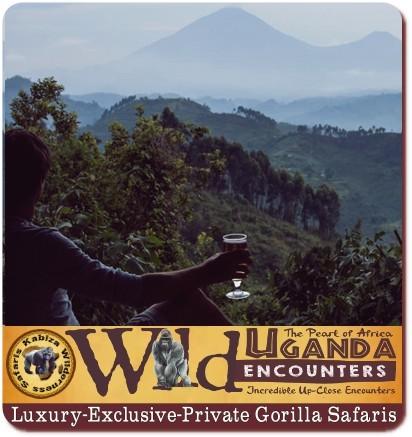 Luxury and Exclusive Gorilla Safaris: 
Luxury and Exclusive Safaris give you the best Gorilla Safari experience.  The Luxury Lodge provides you with the comfort, the quality of service and the excellence when it comes meals that frees you to focus on that which you are here for, the encounter with the Gentle Giants of the Forest, the Mountain Gorillas.
Luxury and Exclusive Gorilla Safaris bring together the best of Lodges, a vehicle such a Toyota Land Cruiser and experienced Drivers with years of Luxury Safari experience.
Private Gorilla Treks can be arranged for you upon request and based on permit availability. Regular Gorilla Treks have up to eight participants. Gorilla Habituation Experience Safaris have four participants.
Most Luxury Safaris are created from scratch for our clients. Samples including the Gorilla Habituation Safaris can be seen here.
---
Value+ Midrange Gorilla Safaris: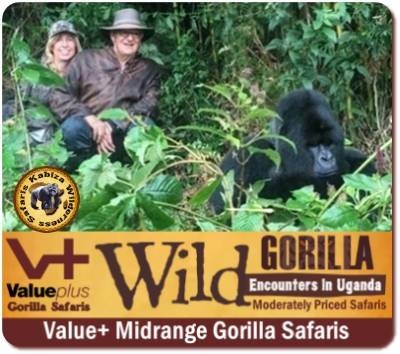 We value the experience of our Clients, a reason that we do not offer stripped-down, budget, or Shoestring Safaris. Value+ Midrange Safaris are slightly more in price, but that bit of extra money increases and enhances your experience on a safari.
We use only proven midrange lodges that offer consistent service. Provide you with comforts such as en-suite bath, better service, and sumptuous meals.  All of our Safaris are private, and you are in control if you like to to make a change your driver will be responsive to your input.
70% of our Safaris are in the Value+ Midrange category. The reason, they are affordable for most and provide the maximum return in value for your money spent. Samples including Gorilla Habituation Experience Safaris can be found here.
---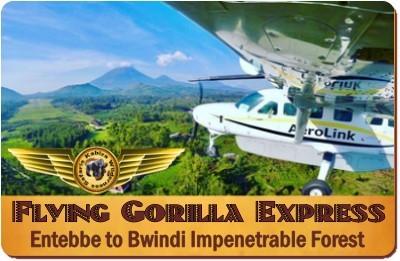 Fly-In Luxury Gorilla Safaris from Entebbe: 
This is the easiest way of getting to both Mgahinga Gorilla Park and Bwindi Impenetrable Forest for your Gorilla Safari.
Depending on permits and your preferences, we fly with Aerolink Safari Airline to either Kihihi Airstrip near the Buhoma area of the park. Or we fly you to Kisoro from where one has easy access to both Mgahinga Gorilla Park and the Rushaga and Nkuringo area of Bwindi Impenetrable Forest.
You have personal driver-guide to assist you on your gorilla Trek. Samples of our Fly-In Gorilla Safaris are found here.
---
Luxury Gorilla Safaris in Mgahinga Gorilla Park: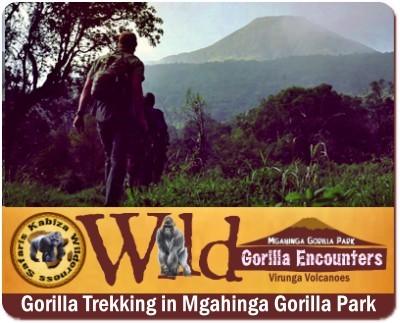 Mgahinga Gorilla Park is the closest Gorilla Park in Uganda to Kigali International Airport.
It is only a three-hour drive from Kigali to Mgahinga Gorilla Park. Mgahinga Gorilla Park Trekking is encountering the gorillas in the Virunga Volcanoes. There are three of the Virunga Volcanoes in Mgahinga Gorilla Park.
The Nyakagezi Gorilla Family is tracked here. There are at present five silverbacks in the family. That is an attraction by itself.
You can track gorillas here, but also Golden Monkeys. You can climb one of the three volcanoes in the park and see the forest through the eyes of its first people, the Batwa People. Samples of safaris can be found here.
---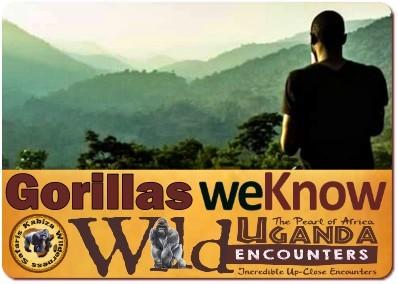 Why Choose Kabiza Wilderness Safari for your Gorilla Safari?
Choose your Gorilla Safari@ We know Uganda, we live and work here. We know Gorillas, we trek them ourselves. We know the lodges, we have been there.
There are over 2,000 Tour Operators operating in or into Uganda. About 200 of them are registered with the Uganda Tourism Board.
We do not dabble in Safaris all over the Continent. We concentrate on Uganda. When you deal with us, you are dealing directly with a Ugandan Tour Operator without any in-betweens, which means that you get the price for what we offer. There is only one thing we do, provide safe and secure, memorable Gorilla Safaris in Uganda, and that we have done for a decade.
---
Don't take our Word – What our Clients say about us:
[gmb-review location="accounts/115951182739430842992/locations/10664650907391775100″ type="slider" minimum-stars="5″ sort-by="date" sort-order="desc" review-amount="200″ slides-page="1″ slides-scroll="1″ autoplay="false" speed="5000″ transition="slide" read-more="false" show-stars="true" show-date="false" show-quotes="true"]
---
Contact us about our Gorilla – Chimpanzee Trekking Wildlife Safaris in Uganda  the  Pearl of Africa