Buhoma Community Rest Camp – Affordable  Lodging- Buhoma Area of Bwindi Impenetrable Forest
Buhoma Community Rest Camp Budget – Moderately Priced Lodging Buhoma Area of Bwindi Impenetrable Forest – close to Park Headquarters – Village Walk – visit Batwa people – Gorillas at times visit the camp for an added plus for guests staying here. By staying here you support the Local Community in a meaningful way, building schools, supporting the hospital – providing meaningful jobs in the Gorilla Tourism Industry
---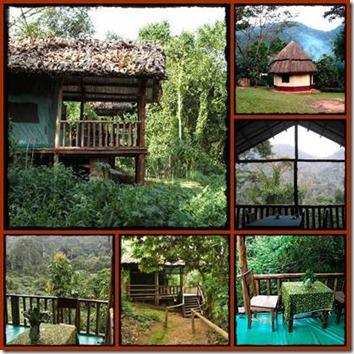 For years Buhoma Community Rest Camp has given Visitors to Bwindi Impenetrable Forest affordable better budget and budget lodging while visiting the Mountain Gorillas of Uganda. Bwindi Impenetrable Forest most often means higher lodging prices – Buhoma Community Rest Camp offers quality budget and better budget lodging by providing clean rooms or tents in a central location convenient to check into the Buhoma area Bwindi Impenetrable Forest Park Headquarters which is only a two-minute walk from here.
You can have self-contained tents with bathrooms attached, African Style Cottages (Bandas), or stay in a dormitory without stretching your wallet.
Buhoma Community Rest Camp is a double win situation for you.  On the one hand, you have affordable lodging and at the same time through your stay here support the local community in a most meaningful way.
Food is offered to full-board guests and includes breakfast, lunch, and dinner.  At lunch and dinner, you are offered several choices, a vegetarian can be accommodated and will not leave hungry. Drinks from sodas to alcohol are available and cold to refresh you after a long gorilla trek.
A group of Kabiza Wilderness Safari clients had a wonderful surprise during the first night of their stay here at Buhoma Rest Camp.  They had a gorilla family visit the camp and stay outside of their tents from early evening to the next morning much to the delight of our clients – that is of course not the norm but occasionally it happens as it did to our clients.
Buhoma Community Rest Camp also offers activities that are beyond Gorilla tracking such as a Village Walk, an encounter with original people of the forest – the Batwa Pygmies and the "Ride for a Woman" women self-help project offers mountain bike rentals and guided bike rides that are varied in length.
Buhoma Community Rest Camp – affordable better budget comfort in the Buhoma area of Bwindi Impenetrable Forest – enjoy your stay here…from the Pearl of Africa…jon
---
If you want to include this camp in your safari with us – please let us know
---