The Best Places in Rwanda where Visitors can Relax and Chill Out
Here is the Best Place in Rwanda to Relax and Chill Out – Lake Kivu
---
Lake Kivu is the perfect place to relax and chill out after gorilla trekking, volcano climbing or taking a long hike in Nyungwe Forest. It is time to chill out along Lake Kivu.
---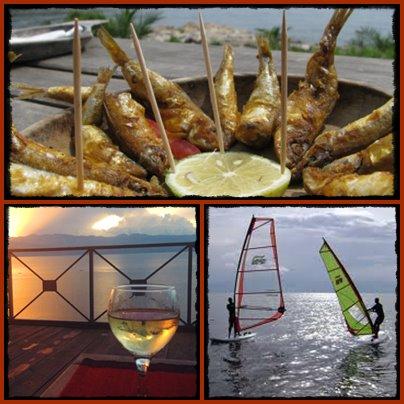 Rwanda is one of Africa's landlocked countries but it still home to beautiful sandy, tropical beaches where you can take in a bit of sun, take a swim and enjoy a rejuvenating break along Lake Kivu after Gorilla Tracking once or twice in the Virunga Volcanoes, Chimpanzee and other primate tracking in Nyungwe Forest and other things.
The Lake is one of the most beautiful Lakes in Central Africa that will simply amaze you with curvaceous coastline and bays, emerald islands that dot the Lake with the Volcanoes and Rwanda's 1000 terraced Hills all around.
The food at many of the lodges is quite nice such the Goat Brochettes, fried Bananas, also Tilapia and be sure to try some fried up Sambaza  – a small sardine introduced into the lake some years back and now under threat by a new predator fish accompanied by  Muetzig, Primus or Skol beer – and don't by-pass some of the great Rwandan Pineapple for dessert along with some of the best coffee in the world.
If you get tired of dipping your toes into Lake Kivu, reading a book and chilling out – there are many things to do and see at Lake Kivu that you just might find most enjoyable from cultural interaction to windsurfing,  from swimming to nature walks.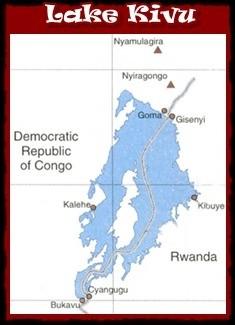 Lake Kivu is Rwanda's Costa del Sol – though landlocked one can have that beach experience which is surrounded by the most stunning scenery which will only enhance your time along the shores of Lake Kivu.
There are three places – three areas, towns – areas where you can go and relax and chill out along Palm fringed Lake Kivu – Cyanungu in the south, Kibuye more in the center and then you have Gisenyi in the north. Gisenyi being the most developed for tourism.
All of the three areas have the  various choices of lodging to fit your pocketbook and meet your comfort expectations -Up-Market lodging is mostly available in the Gisenyi area of Lake Kivu – however all areas have some jewels when it come to accommodations.  When it comes to food – the various lodges and hotel vary – some focus on Rwandan fare which is a treat for most, while others focus on continental cuisine using the freshest local ingredients.
Take a look at the map and that will give you a further idea as to various locations where one can  find the Best Place in Rwanda to Relax and Chill Out – Lake Kivu.
---
 Lake Kivu's great places to relax and chill out:
---
 Cyanungu – Rusizi:
Cyanungu or Rusizi (Ruzizi) as it is called is the least frequented area along Lake Kivu by visitors to Uganda on safari – one reason would be its geographical location and the fact there are fewer lodges and hotels to choose from along Lake Kivu – the newer Emeraude Kivu Resort overlooking the lake is a refreshing addition.
You can easily add-on  Cyanungu along Lake Kivu after your visit and stay in Nyungwe Forest and it will a short drive time.
You can take boat rides here on the very scenic Lake Kivu and go island hopping to Gihaya and Nkombo Islands, nature walks including through some picturesque surrounding areas that will simply delight you. Rusizi is also a river that exits here out of Lake Kivu and that has a lot of possibilities especially if you enjoy hiking. Visit a hot-springs and take a warm dip – enjoy the local culture and get to know Rwandans and Rwanda.
The choices are yours – some simply like to stay at their lodge or hotel – take in a good book – take in some sunshine and be a human being in the midst of creation on Lake Kivu in Rwanda.
---
 Karongi – Kibuye:
The sleepy, laid back town of Kibuye is another perfect place in Rwanda where you can relax and chill out along Lake Kivu.  The scenery here is once again quite dramatic as the lake displays itself through bays and coves that at times seem to be like watery fingers framed by the ever-present color green of Rwanda.
Kibuye is a most enjoyable where you can relax and chill out in comfort – take a swim in the lake as you dive from a walk or simply dip your toes into the waters of Lake Kivu.  Kibuye like Cyanungu is not yet on the map of most visitors to Rwanda since for most the purpose their visit to Rwanda is gorilla tracking, however, that is changing and in the future even Kibuye have more and more visitors coming to enjoy the shores of Lake Kivu.
Lodging choices abound in the budget and moderate range making it quite affordable and the lodges provide from basic to more elaborate rooms for you – food will be a lot of Rwandan food – though international cuisine is also available for you.
Kibuye is a perfect place to relax and chill out – it also an area that is deeply connected to the Rwanda Genocide and one can visit two of Rwanda's sacred places, the Genocide Memorial Church and the Hill of Resistance Memorial – the latter was a place in the hills where some decided to take a last stand.
---
 Rubavu – Gisenyi:
Gisenyi is the most frequented area in Rwanda along Lake Kivu and has been referred to as the Rwandan Riviera and it also has the most palm-studded sandy beaches for you to enjoy.
Gisenyi  provides the perfect setting in Rwanda to relax and chill out for a few days during your safari time in Rwanda.  You will find Gisenyi a most interesting place, on the one hand you have its bustling markets that seem ever so busy in this 5th largest town in Rwanda, you have the colonial legacy of Belgian homes, the streets are lined with palms and then you have the most relaxing and scenic Lake Kivu.
Gisenyi could easily be referred to as Rwanda's Resort town though you will find it peaceful and relaxing unlike what you would encounter along the Indian Ocean where you would be bombarded by those trying to sell you something of one kind or another.
Lodging choices abound here and the choices are increasing each year, most lodges have their own restaurants, however, there are also many restaurants that you could visit with further choices.
There are a few activities you can do here that go along with a relaxing time on the beach including swimming, windsurfing, a birding boat-ride on the lake and more…Gisenyi a place to enjoy and relax and chill out in Rwanda.
---
 If you want to include the Best Place in Rwanda to Relax and Chill Out – Lake Kivu in your safari with us – please let us know.

---

---