Budget Amajambere Iwacu Community Camp – Mgahinga Gorilla Park
Great Location – Amajambere Iwacu Community Camp – Mgahinga Gorilla Park
---
Filling the accommodation Gap – Amajambere Iwacu Community Camp – Mgahinga Gorilla Park.  There are not many lodges, camps near the entrance to Mgahinga Gorilla Park.  You have the Luxury Mount Gahinga Lodge and the budget Amajambere Iwacu Community Camp. After that you have to drive to Kisoro or along Lake Mutanda.  The community Camp fills the accommodation gap with budget lodging gap and your stay supports the Local Community – a Win – Win situation.

---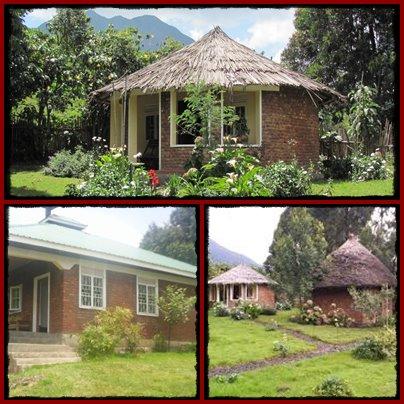 Amajambere Iwacu Community Camp – Mgahinga Gorilla Park is perfectly located for Mgahinga Gorilla Park access.
You have stunning views of the Virunga Volcanoes while at the camp.  The camp is just the right starting point for Gorilla Trekking, Golden Monkey Trekking of the Habituation Experience.  The Batwa Trail with the original people of the Forest, the Batwa Pygmies.
You can climb 3 of the Volcanoes in Day Hikes and Climbs, or take half or full-day hikes in the Park.
There are also Batwa Community Visits, School Visits, Hikes, Cave visits and more, all organized the community camp.
There are 5 African style Bandas that you can stay in, two are dorms with shared bath.  The self-contained room has a drop-toilet but you have a place for a shower.
Local Ugandan food is prepared for guests in the gathering point where there is also a nightly campfire, dancing by the Batwa Community and plenty of local refreshments are available.  You will not get a fine bottle of wine here, but they normally have boxed wine, beers, sodas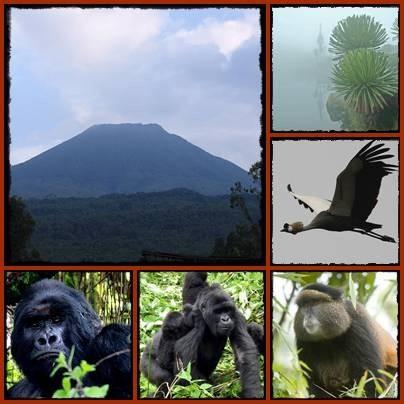 and Ugandan  Waragi.
You can buy local crafts made by the community which bring benefits to those that created it and the community at large such as school projects, the stretcher endeavor where sick people are brought to the hospital in Kisoro.
The camp is 12 kilometers from Kisoro and Lake Mutanda beyond, and on the border with Rwanda.  You can stay here several days, save money, make Ugandan friends and explore of Uganda's most interesting and diverse parks – Mgahinga Gorilla Park.
Amajambere Iwacu Community Camp – Mgahinga Gorilla Park also known as Mgahinga Community Campground makes visiting Mgahinga Gorilla Park affordable by providing budget and shoestring lodging…take advantage of it...You will be glad that you did.

---
Amajambere Iwacu Community Camp – If you are interested in staying here during your safari with us – please let us know.
---