Early Breakfast and take your packed lunch from the lodge, have a daypack,  3 liters of water, long trousers, gardening gloves for pulling yourself up on branches, long-sleeved shirt. waterproof boots, hat, rain jacket, use a walking stick and the services of a porter at a small cost.
[bg_collapse view="button-orange" color="#4a4949″ expand_text="Lodges" collapse_text="Show Less" ]
---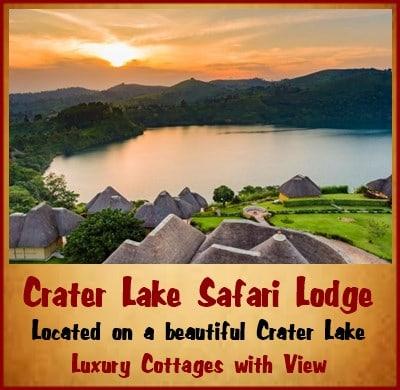 Crater Lake Safari Lodge – Luxury – $$$:
Crater Lake Safari is when it comes to Luxury lodges is an affordable option for those that want that added comfort, extra service, and delightful meals.
There is a swimming pool for you to enjoy and you can enjoy a soothing massage here.  One should also take advantage of the Gazebo at the lakeside dock where you can relax with a book and a cool drink.
The lodge has been featured in various international publications including Vogue Magazine as one of the best lodges in Uganda.
Enjoy the view from your most comfortable Cottage, the crater lake just below you, the rolling hillsides in the distance and the color green everywhere. Kibale Forest and Bigodi Wetlands are 20 minutes from the lodge.
The Location of the Lodge – one reason why most of our Clients prefer staying at Crater Lake Lodge.
---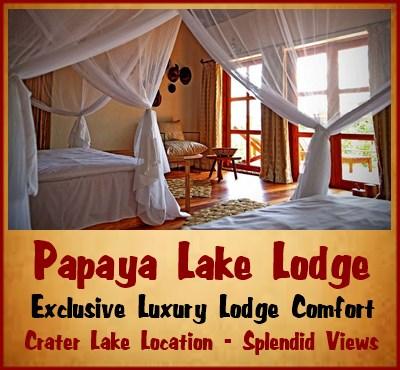 Papaya Lake Lodge – Luxury – $$$:
This classy luxury lodge comes with all the extras that one might expect from an exclusive lodge.  There is a sense of Afro-Euro fusion throughout including the meals served, original art, handcrafted furniture by the owner of the lodge.
You overlook one crater lake from your luxurious cottage and are near another.  Each cottage is in its own private setting perched above a crater lake.
The swimming pool is most attractive with a 360 panoramic view that includes the Rwenzori  Mountains of the Moon.
All in all, Papaya Lake Lodge is a place where memories are created. It is also a celebratory Lodge, perfect for Honeymoon Couples who enjoy their stay here and the privacy of the Cottages.