Uncharted Waters-the Uganda Coronavirus Travel Ban and you
Our Take; Here is a Word to our Clients about the Uganda Coronavirus Travel Ban
---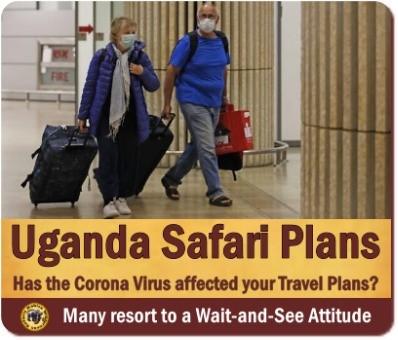 Uncharted Waters-A word to our Clients about the Uganda Coronavirus Travel Ban: The Coronavirus scare is easily the most significant crisis to hit the globe in Years. The impact on the world economy is enormous, especially among the travel, tourism, hospitality, and aviation sectors.
March 11, 2020, the Travel Ban was extended to include now 16 countries.
Italy, Iran, South Korea, France, China, Germany, Spain, San Marino, Belgium, USA, United Kingdom, Netherlands, Sweden, Norway, Australia, and Malaysia should consider postponing non-essential travel to Uganda,"
Anyone arriving from those countries will be automatically be quarantined for at least 14 days at their expense
Residents from those countries should consider postponing non-essential travel to Uganda. The Travel Ban is also enforced for Ugandans traveling to those countries or returning to Uganda.
The Ministry of Health is also monitoring the Coronavirus outbreak in the UK, Switzerland, Norway, Netherlands, Sweden, Belgium, India, and the USA. 
Should the Coronavirus outbreak go viral in those other countries, they would be added to the current list of nations to whom the Travel Ban applies.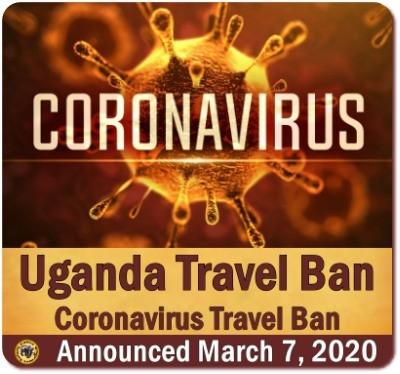 Tour Operators across Africa, including Uganda, have been affected by cancellations and significantly fewer new bookings for Safaris. The response of the tour operator often has been, "but there is no Coronavirus in Uganda or Uganda is clean."
The Uganda Tourism Board has issued directives regarding hand-washing stations in vehicles, hotels, and to encourage tourists to reschedule their Safaris.
 The Ministry of Health has taken similar steps attempting to show that things are under control. That the Coronavirus pandemic has not reached Uganda. On March 7th, 2020, the Minister put a Travel Ban into effect, which includes visitors from affected countries.
The local newspapers are full of facts about the Coronavirus. The local World Health Organization, together with the Uganda Ministry of Health, gives us almost daily Coronavirus fact updates.
We have concluded that Coronavirus Communication is not just about Facts such as "Uganda is Coronavirus-Free." That does not calm the fears that our clients and many potential visitors to Uganda have.
---
Here is a Word to our Clients about the Uganda Coronavirus Travel Ban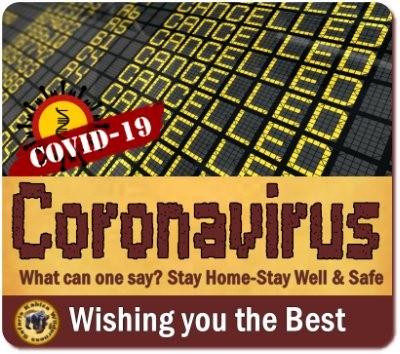 Kabiza Wilderness Safaris – As a Tour Operator, we could attempt to use logic, facts, and statistics with enquiring and booked clients. We could tell you how statistically it is unlikely that you will come down with the Coronavirus on the way to Uganda or a Safari
During times of crisis, people have fears. Those Fears are not calmed with logic, facts, statistics. People do not want to hear how we, as a tour operator, follow the Ministry of Health Guidelines. People do not want to hear vague assurances. We will not try to calm your fears using facts, logic, statistics since we know from experience that fear will win every time.
The reality is that we are all navigating in uncharted waters. "We're asking the same questions you are – how can we stay safe and keep our clients safe and well?" We know how you feel during this time where we are bombarded hourly with new coronavirus headlines.
We understand the fears about traveling at present. We are also keenly aware of the effects that the current Travel Ban has on travelers and our clients. Along those lines, we are booking safaris for the future. Today we wrote up three safaris with open-ended or adjustable dates.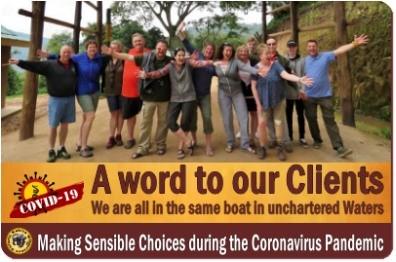 For those needing to adjust their Safari dates. That is not a problem. We will work with you as we did when we first created the Safari.
We do not have a one size fits all delayed booking program. Nor do we have ta uniform 3-steps to reschedule your Safari for the future program. It all depends on you. 
You are not a client number. We know you by name and will, if the need arises, work with you on your Safari. It is our resolve to see that all such changes are worked out in an amicable manner that suits you.
We are all in the same boat facing stormy, uncharted waters. We as a Tour Operator are not in control, and neither are you. We can take a deep breath and make the right choices with you in mind. At some point, hopefully in the near future, with calmer waters around us where we can welcome you to the Pearl of Africa, Uganda…In the meantime, stay well and safe wherever you call home are during these unusual times. 
[bg_collapse view="button-orange" color="#4a4949″ expand_text="Contact" collapse_text="Show Less" ]
[contact-form subject="Safari Plans"][contact-field label="Name" type="name" required="1″][contact-field label="Email" type="email" required="1″][contact-field label="Message" type="textarea" required="1″][contact-field label="" type="text" required="1″][/contact-form]
[/bg_collapse]
[starbox]